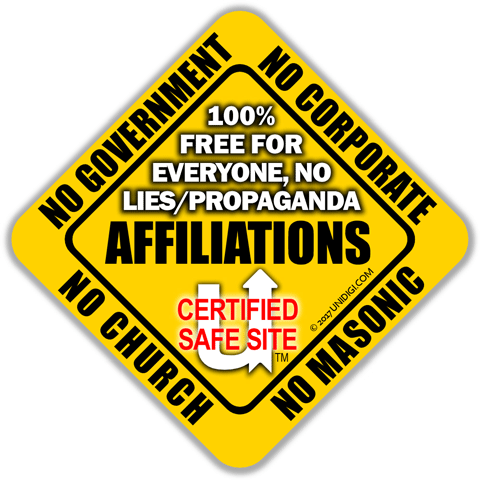 NO GOVERNMENT, CORPORATE, CHURCH OR MASONIC AFFILIATIONS.
ALSO NOTE; EVERYTHING HERE IS FREE, THERE ARE NO LIES, PROPAGANDA, ADS OR WHINING FOR DONATIONS!
ENJOY THE TRUTH!!!
---
"The white rabbit put on his spectacles . . . (and saw it was time)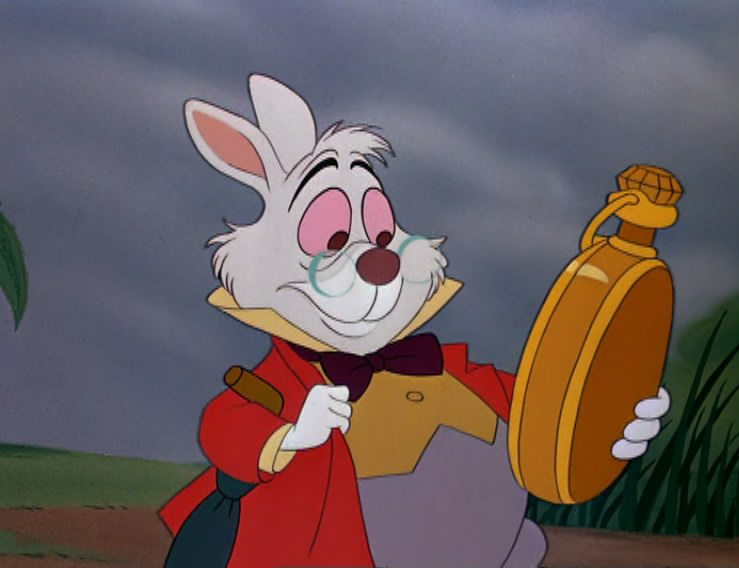 "Where shall I begin, please your majesty?" he asked. "Begin at the beginning" the King said gravely; "and go on till you come to the end: then stop."
Lewis Carrol (Alices' Adventures in Wonderland)
---
HEY YOU, WELCOME TO THE BEGINNING AND THE END OF THE RABBIT HOLE!
We Have the Truths You've Been Longing For Since Birth!

You'll Want to Memorize Our "ItsASign.com" URL
and/or Bookmark This Page Now!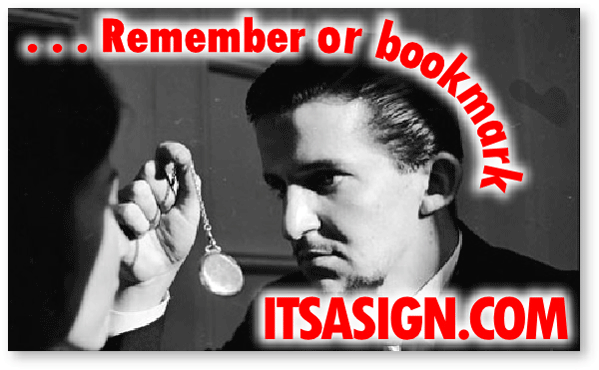 FYI; OUR SITES ARE HOME TO THE BEST NEWS GOOD PEOPLE HAVE EVER HAD.
(While delivering the worst and most terrifying news imaginable for evil people.)
BUT FIRST: WATCH OUR 13 MINUTE MOVIE BANNED BY YOUTUBE WORLDWIDE!!! (Give our player a couple seconds to load . . .)

Download "When Do We Leave?" HERE (93 MB .mpeg video)
SO, WHO ARE THEY, DO YOU KNOW? UTILIZE THE 1st, ENGLISH ONLY VERSION OF THAT VID TO FIND OUT MORE!
(It's shorter and arguably better)

Download The English Only Version of "When Do We Leave?" HERE (60 MB .mpeg video)
AND FOR THOSE WHO STILL DON'T KNOW THE IDENTITY OF THE MURDEROUS GROUP OF SUBVERSIVES IN THAT VIDEO, THE UNEDITED 7 MINUTE ORIGINAL ;

(It was taken off the net immediately upon their realizing how damning it was. POOF! GONE from the only 3 sites on the net it was briefly hosted on! But as you can see, God made sure I, being enemy #1 to these pathetic pukes got a copy by a complete fluke during the several hour window of it being out there!)

Download The Original "When Do We Leave?" HERE (7 MB .mpeg video)
---
GOT YOUR ATTENTION??? OK, HANG IN THERE. I PROMISE THERE WILL BE VERY GOOD NEWS AT THE END OF THIS! BUT FIRST, WE THE PEOPLE HAVE TO COMPREHEND THE PROBLEM.
REMEMBER, IT IS ALWAYS PROBLEM-SOLUTION. NOT THE OTHER WAY AROUND! YOU MUST FIRST IDENTIFY PROBLEMS BEFORE YOU CAN EVER EVEN HOPE TO FIX THEM. AND FIXING SOME PROBLEMS IS A VERY PROFITABLE ENDEAVOR , INDEED.
---
SO, NOW YOU KNOW A PSYCHOTIC GROUP OF TRAITORS HATE AND PLANNED TO KILL YOU AND YOUR LOVED ONES WHILE DESTROYING AMERICA BEFORE RUNNING OFF TO ISRAEL. Note; the reason she told her fellow traitors not to wait until the end of America is because they know this is what "FEMA camps" and the U.S. Army's "Internment & Resettlement Operations Manual" are for! (That document lays the groundwork for the massive roundup of millions of traitors by the govt in the days to come)
THAT WAS THE BAD NEWS, BUT ALL OF THIS ENDS WITH EXTREMELY GOOD NEWS FOR WE THE PEOPLE OF THE WORLD, YOU WILL REMEMBER THIS EXPERIENCE FOR THE REST OF YOUR LIFE.
THIS CLOUD HAS A SILVER LINING!!!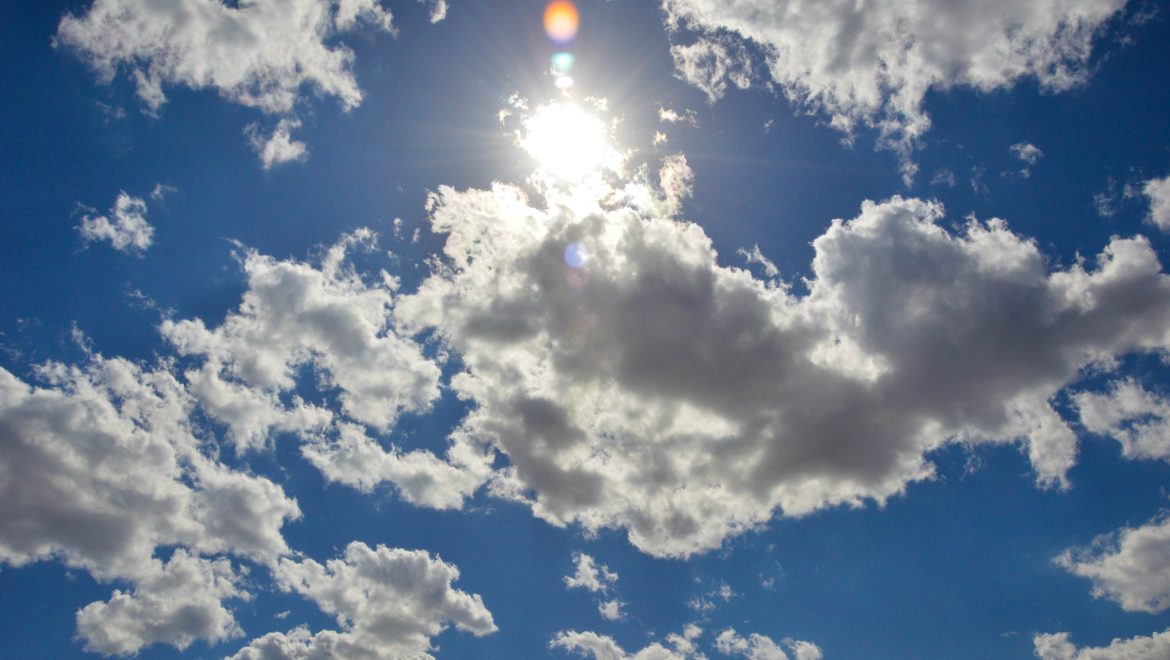 YOU ARE HERE TO LEARN BIG TRUTHS THAT HAVE BEEN HIDDEN FROM WE THE PEOPLE FOR MILLENNIA.
WITH THIS SINGLE PAGE ON THE INTERNET YOU WILL NOW BEGIN TO FIND OUT (CHOOSE) WHAT YOUR TRUE DESTINY WILL BE; YOU WILL SOON LEARN WHICH OF THE 3, ONLY TYPES OF PEOPLE YOU ARE. INDEED, YOU (THE REAL YOU, YOUR SOUL) ARE EITHER;

1: ASLEEP AND DECEIVED (BY YOUR ENEMIES)

2: AWAKENING AND SEARCHING (FOR TRUTH) or;

3: BLINDED AND CONDEMNED (BY GOD)
---
LET'S RESTART WITH A FEW MINUTES OF POSITIVITY . . . ENJOY OUR SHORT MUSIC VIDEO!
OK, NOW IT'S TIME FOR SOME BIG TRUTHS!

FIRSTLY, REMEMBER THIS FOREVER; IF YOU'RE A NORMAL, DECENT PERSON WHO DOESN'T KNOW ANYTHING ABOUT THIS ANCIENT SUBVERSION OF OUR COUNTRY AND WORLD, YOU HAVE FAR MORE LIKELYHOOD OF HAVING ISRAELITE BLOOD OR EVEN BEING PART JUDAHITE FROM THE TRIBE OF JUDAH (LIKE JESUS) THAN ANYONE CALLING THEMSELVES "jEWS" TODAY!

AND BY THE WAY, THE COUNTRY OF ISRAEL CREATED BY THE ROTHSCHILD jEWS IN 1948 HAS NOTHING TO DO WITH THE 12 BIBLICAL TRIBES OF ISRAEL LOVED BY GOD! THAT IS JUST A GIMMICK CREATED BY FAKE JUDAHITES (jEWS) TO FOOL WE THE PEOPLE.

LET'S FIND OUT WHO THEY REALLY ARE AND HOW GOD IS GOING TO STOP THEM AS HUMANITY HAS BEEN PROMISED FOR THOUSANDS OF YEARS ACROSS EVERY MAJOR RELIGION ON EARTH!
"KNOW YOUR ENEMIES!!!"
(FYI; 99% of We the People Don't . . . BEFORE SEEING THIS PAGE!!!)
---
BUT WHY ARE THEY YOUR ENEMIES? WHY DO THEY HATE WE THE PEOPLE, GOD AND CREATION?
Firstly, they hate God because God hates evil and has always hated them;
Romans 9:13 As it is written, Jacob (Israel) have I loved, but Esau (Edom) have I hated. (Yes, jews are of Esaus' blood, NOT his brother Jacob/Israels')

Malchai 1:2-4 . . . I loved Jacob (Israel) and I hated Esau (Edom) and laid his mountains and his heritage waste for the dragons of the wilderness . . . The people against whom the LORD hath indignation for ever.
This means We the People of God would also oppose them for ever and as you'll see, we have. For instance, in biblical times God helps Israel kill the Amaleks, the people of the grandson of Esau (Edom);
Exodus 17:14 Then the Lord said to Moses, "Write this as a memorial in a book and recite it in the ears of Joshua, that I will utterly blot out the memory of Amalek from under heaven."
1 Samuel 15:2-3 . . . I will punish what Amalek did to Israel in opposing them on the way, when they came up out of Egypt. Now go and smite Amalek, and utterly destroy all that they have; do not spare them, but kill both man and woman, infant and suckling" And Israel did!

---
Fast forward a millennia and we see that ancient war between We the People and Gods' enemies is still going on. The people who falsely call themselves Judahites ("jews") in that video are TRAITORS to America and We the People exactly as they've been many, many times before in over a hundred other countries around the world. (This commonly happened throughout history via the Catholic church before it was fully subverted by the fake jews circa 1917. There were multiple and ongoing "inquisitions" created to expose, expel and execute millions of subversive heretics known as "crypto jews", "marano jews" and "converso jews" who have always lived secretly among We the People like parasites but with a bizarre and deadly animosity to their hosts. There is a very worthwhile read from wikipedia about the "spanish inquisition" we've archived here.)

From the book "The wandering who?" a quote from Moses Mendelssohn, a famous fake "jew" who was telling his ilk not to disclose their jew-ish identity. He said; "Be a jew at home and a Goy on the street". ("Goys" or "Goyim" are anyone other than jews, it also means "cattle" or "nations".) Anyway, that quote says it all about the people living secretly among We the People. But there is much more;
---
STRAIGHT FROM THE HORSES MOUTH ON "JUDAISM"
The faith known as Judaism today was never called thus. Rabbi Adolph Moses in collaboration with Rabbi H.G. Enlow explained clearly in "Yahvism and Other Discourses" that, "Among the innumerable misfortunes which have befallen… the most fatal in its consequences is the name "Judaism"… neither in biblical nor post-biblical, neither in Talmudic nor in much later times, is the term Judaism ever heard…"
And what was it called before?
Rabbi Louis Finkelstein stated in his book "The Pharisees, The Sociological Background of Their Faith" that, "Pharisaism became Talmudism, Talmudism became Medieval Rabbinism, and Medieval Rabbinism became Modern Rabbinism. But throughout these changes in name . . . the spirit (satanic/evil) of the ancient Pharisees survives, unaltered . . . From Palestine to Babylonia; from Babylonia to North Africa, Italy, Spain, France and Germany; from these to Poland, Russia, and eastern Europe generally, ancient Pharisaism has wandered . . . demonstrates the enduring importance which attaches to Pharisaism as a religious movement . . ."
Judaism is actually Pharisaism, and therefore it is a misnomer since it is neither the doctrine of Judah nor the monotheistic doctrine that Jesus, an actual Judahite practiced. "Pharisaism shaped the character of Judaism and the life and thought of the jew for all the future," explains the Jewish Encyclopedia.
In fact, Pharisaism is the doctrine of the Pharisees of old, an evil doctrine they brought back from their Babylonian captivity. It does not follow the teachings of the Bible. Its central tenets are found in a book called the Talmud, a text full of psychopathic mysticism, lies, and superstitions. The argument in the Gospels is between Jesus (actually "Yeshua") a TORAH believing Judahite (a REAL "Jew") and Talmudic Pharisees.

From "Yahvism and other discourses" by Rabbi Adolph Moses, the chapter "WHY AM I A JEW";
The very fact that the question, "why am I a jew" can be put at all, conclusively proves that to be a jew, in the deepest sense of the word, does NOT mean to belong to the ALLEGED jew-ISH race of Judahites or nationality of Judea, but to be a member of the jew-ish SYNAGOGUE (a gathering or group of people). For it would be sheer madness, say, for an American, Frenchman or a Spaniard to rise and explain why he or she is an American, Frenchman or a Spaniard!
Ironically, this is in fact what those claiming "jewishness" do and it is indeed SHEER, PSYCHOPATHIC MADNESS. Below we see how God in fact intended they be insane by giving them 613 laws and other ordinances instead of the simple 10 commandments they refused to follow;

Ezekiel 20:25-26 "Moreover I gave them statutes that were not good and ordinances by which they could not have life; and I defiled them through their very gifts in making them offer by fire all their first-born, that I might horrify them; I did it that they might know that I am the LORD."
Here is another example of those ordinances/laws from their occult/secret book, the Babylonian Talmud;
Gittin 69a; "To heal his flesh a jew should take dust that lies within the shadow of a privy (outdoor toilet) mix with honey and eat it"
Gittin 70a; "The Rabbis taught: On coming from a privy a man should not have sexual intercourse till he has waited long enough to walk half a mile, because the demon of the privy is with him for that time; if he does, his children will be epileptic."
Gittin 69b; "To heal the disease of pleurisy (a lung disease) a jew should take the excrement of a white dog and knead it with balsam, but if he can possibly avoid it he should not eat the dog's excrement as it loosens the limbs."
Hence, the group we're speaking of are complete nutters who are nothing like We the People. They hate us for not being cursed with having to obey all the insane laws God gave them for being and practicing evil!

---
So, the psychopath in that video and her ilk do not care about us or our country, they only care about themselves and their bogus country, the "synagogue of Israel" they created in 1948 which has NOTHING to do with the 12 tribes of biblical Israel. You are about to learn more about the fact these liars are subversives guilty of TREASON who call themselves "the enemy within". They are spiritual foreigners who hate We the People, God and Earth. They want to destroy all that's good and decent which includes YOU, YOURS AND YOUR COUNTRY.
IF YOU'VE ALREADY FORGOTTEN THIS, SCROLL BACK UP AND WATCH THE VIDEOS AGAIN. THAT WITCH IS TELLING YOU POINT BLANK THEY WANT YOU AND YOURS DEAD AND AMERICA RUINED.

And anyone who knowingly or unknowingly sides with them by doing or saying nothing about this will be guilty of TREASON too. (THIS IS NOT B.S. ONE IS EITHER SERVING THE ENEMY OR RESISTING THE ENEMY, THERE IS NO IN BETWEEN.)

---
18 U.S. Code § 2381 – Treason
Whoever, owing allegiance to the United States, levies war against them or adheres to their enemies, giving them aid and comfort (doing or saying nothing) within the United States or elsewhere, is guilty of treason and shall suffer death, or shall be imprisoned not less than five years and fined under this title but not less than $10,000; and shall be incapable of holding any office under the United States.
THIS IS NOT A GAME, THAT LAW AND OTHERS, MOST IMPORTANTLY

GODS' LAWS,

ARE GOING TO BE USED AGAINST ANY AND ALL WHO ARE GUILTY OF TREASON BY THEIR ACTIVITY

OR LACK THEREOF

. (DON'T WORRY, WE HAVE YOUR "TO DO LIST" PLUS IT'S 100% LEGAL,

EASY

AND

VERY SELF GRATIFYING

!!!)

---
HOWEVER, THIS IS WHERE THINGS GET A LITTLE STICKY. It turns out that being deceived by them is how they turn would be innocents into their accomplices. The problem there is that nearly everyone who's not knowingly one of them, is deceived by them. The deceptions were created to make We the People feel weak, helpless, divided/alone, fearful and thereby, stagnant/frozen which of course equals their success and OUR FAILURE! So, weak links MUST BE HELD ACCOUNTABLE in the end! This is a Biblical/Quranic story that is now playing out in front of everyone. The goal for good people is not to be deceived into helping bad people, this of course requires understanding and action.

We (David Allender and Peggy Star) aim to help everyone with both UNDERSTANDING and TAKING ACTION by disseminating truth and providing a course that will allow each of us to have a way to succeed. However, in the end, educating yourself before it's too late and taking action to be of benefit to We the People is 100% up to each person. Just always keep in mind this is all about God and satan, truth and lies, heaven and hell. It doesn't get any more serious than this which is why THEY use their media, internet and hollywood to brainwash Americans into thinking heaven/hell, evil and satanism aren't real, those are just silly ideas to be joked about and him-hawed over. Let's see how you feel about that 5 minutes from now after watching this . . .
---
SATANISM ON 9/11

IF YOU CAN'T PLAY THAT MPEG FILE TRY THIS ONE
Or use this link to Download "SatanismAnd911" (50 MB .mpeg video)

THAT'S NOT A "CONSPIRACY THEORY" IT'S A SATANIC CEREMONY BEHIND A VERY REAL SPELL THAT WAS CAST UPON AMERICANS TO BELIEVE THE 9/11 LIES. AND RECALL 3000 OF YOUR FELLOW AMERICANS WERE BRUTALLY MURDERED THAT DAY PLUS OVER 60,000 US MILITARY MEN AND WOMEN DEAD AND MILLIONS UPON MILLIONS MORE TOTALLY INNOCENT PEOPLE FROM AROUND THE WORLD HAVE BEEN KILLED OVER 9/11.
THIS IS SERIOUS, BE SURE TO ACT LIKE IT.
FOR CONCRETE, IRREFUTABLE PROOF THAT OUR "LEADERS" DID 9/11 DOWNLOAD AND SHARE THIS SHORT ARTICLE;
---
LOOK WHAT THE LAST 4 U.S. PRESIDENTS TRUMP, OBAMA, BUSH AND CLINTON HAVE IN COMMON;

SO, THEY'RE ALL jEWS??? "sATANIC jEWS"???
YES.
For a more detailed and scholarly article on this most important subject see Peggy Stars' very well done article "The First Big jewish LIE".
---
NOW, DO YOU THINK THE IDEA OF THOSE U.S. PRESIDENTS AND OTHER SICK AND INSANE LEADERS WHO GRADUATED FROM TOP COLLEGES AROUND THE GLOBE PRACTICING MAGIC/SATANISM/WITCHCRAFT/SORCERY & ETC. EVIL SH*TE IS JUST A SILLY JOKE? OK. BELOW WE HAVE SOME SCREEN SHOTS INSIDE MY ACCOUNT AT "ACADEMIA.EDU" THE TOP WEBSITE FOR FIFTY EIGHT MILLION jEW-ISH PROFESSORS AND THOSE OF "HIGHER LEARNING" IN ACADEMIES AROUND THE GLOBE;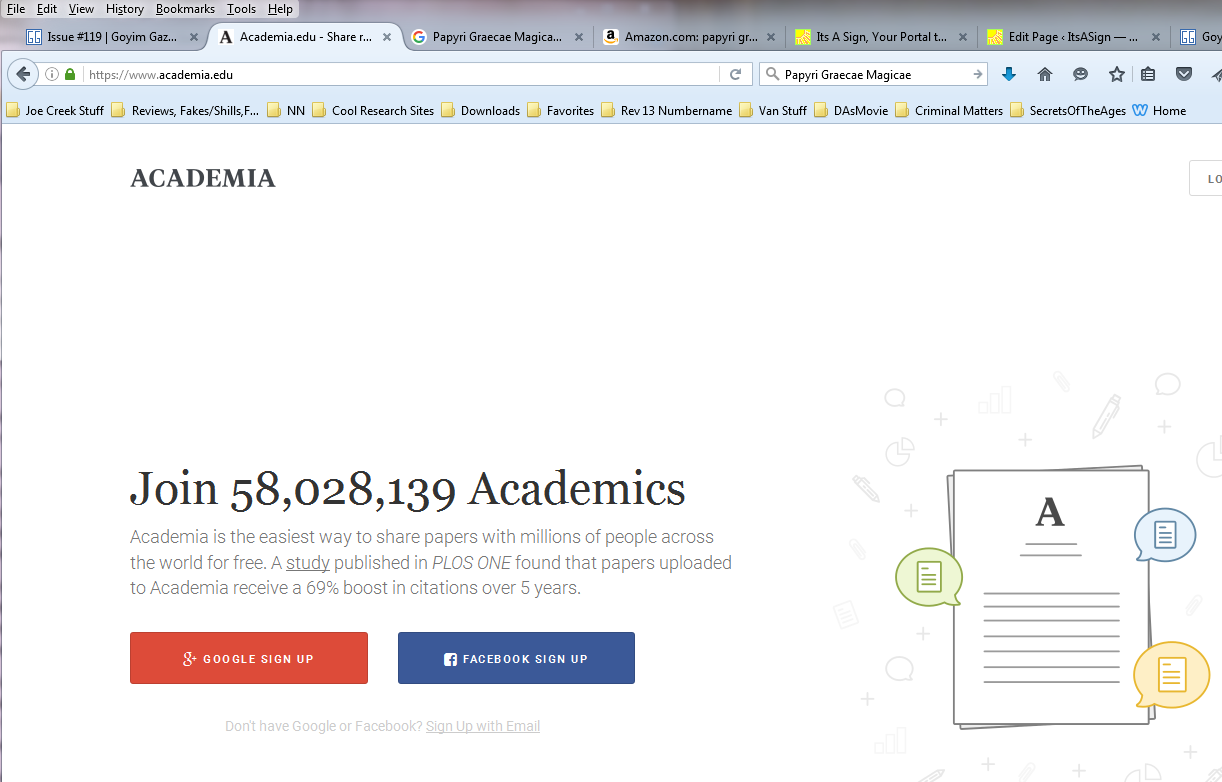 Here's a few screen shots of some papers they have safely tucked away from the general public there;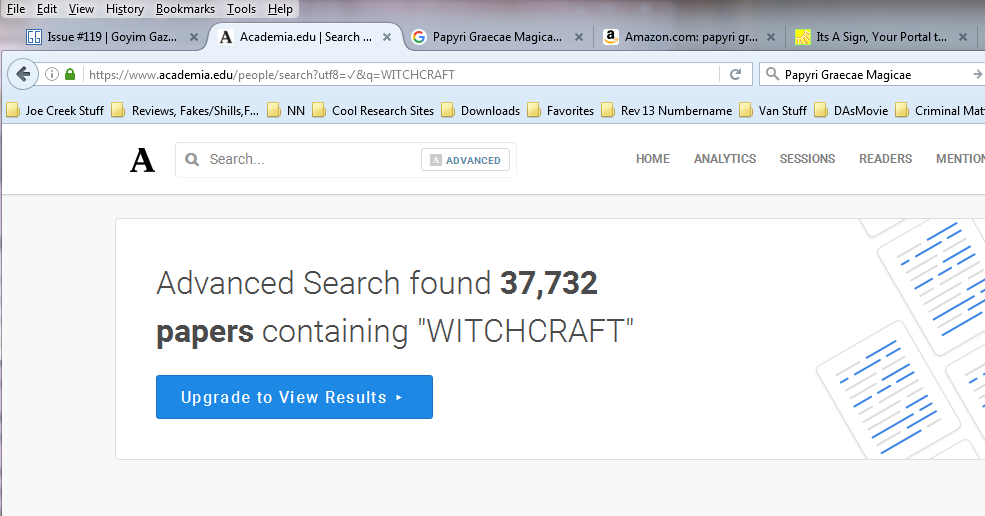 That's 37,732 professional papers for "academics" on WITCHCRAFT! How about sorcery . . .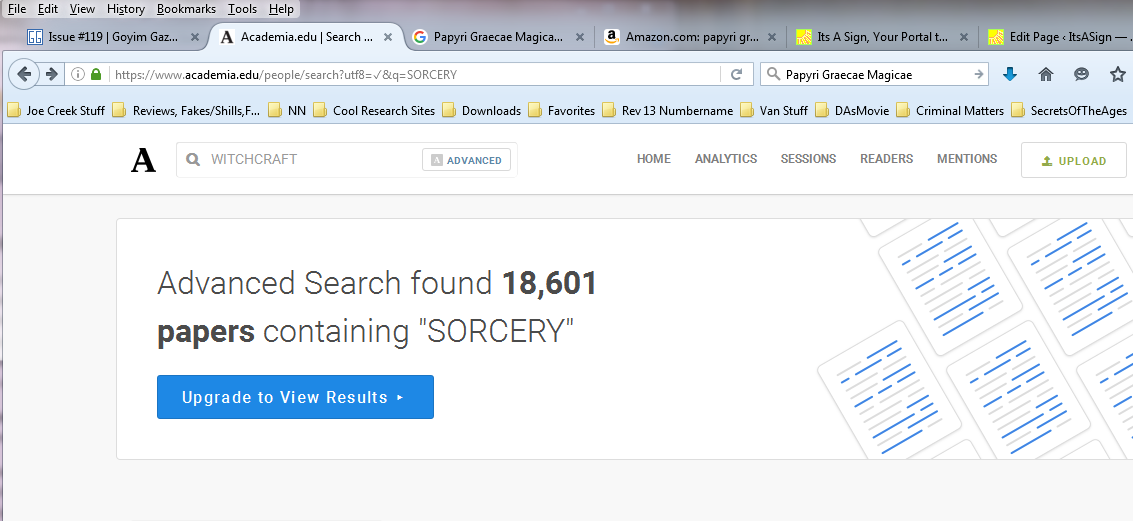 That's 18,601 professional papers for "academics" on SORCERY! How about their favorite seemingly innocent title of "magic". . .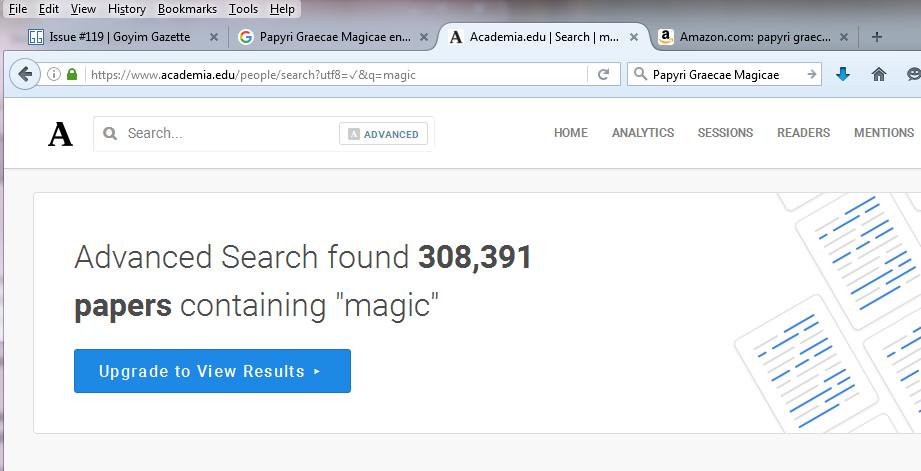 That's THREE HUNDRED AND EIGHT THOUSAND professional papers for so called "acedemics" on MAGIC which God forbids us to practice!!!
---
Do you think this is all just a "conspiracy theory" or will you slow down to realize that EVERYTHING GOD TELLS US ABOUT EVIL, SATANISM, WITCHCRAFT, SORCERY AND ETC. IN THE VEDAS, BIBLE AND QURAN IS 100% TRUE!?

---
BELOW ARE A COUPLE OF 2000 TO 3000 YEAR OLD BOOKS ON THE SUBJECT OF "MAGIC" THAT REMAIN AVAILABLE TODAY VIA THE NET. OTHER, MORE POWERFUL SATANIC SPELLS AND CURSES NUMBERING IN THE 1000s FROM OTHER BOOKS HAVE BEEN CONFISCATED BY OUR CORRUPT LEADERS FOR THEIR OWN USE AGAINST WE THE PEOPLE IN SATANIC RITUALS LIKE 9/11. DOWNLOAD THEM FOR PROOF OF THEIR EXISTENCE BUT DON'T READ THE DEMONIC NAMES/SPELLS/CURSES/CHARMS/INVOCATIONS/ETC!!!
Ephesians 5:11 "Have no fellowship with the unfruitful works of darkness, but rather reprove them"
AGAIN, DO NOT READ THE SPELLS OR PRONOUNCE THE NAMES OF THE JEWS' DEMONS/ANGELS/G-DS IN THESE BOOKS!!!

The
Greek Magical Papyri English
(This book is but a glimpse into the satanic psychopathy that was prevalent among evil and possessed ancient pharisees/jews during biblical times. Every single one of the people who practiced anything in it were eventually killed by God and are damned for eternal hell.) BE PATIENT, IT'S ONLY 16 MEG BUT .PDFs TAKE LONGER.


Babylonian-Magic And Sorcery
(This book predates the one above and gives a glimpse into what the ancient Egyptian pharisees/jews such as pharaoh and his "priests" were practicing before God completely and utterly wiped them and their followers from the face of the earth!
)
AGAIN, BE PATIENT, IT'S ONLY 22 MEG BUT .PDFs TAKE LONGER.
---
NEXT; YOU ARE SMART ENOUGH TO UNDERSTAND THE REAL LIFE "SATANIC WITCH" AND THAT WRETCHED EXCUSE OF A MAN GEORGE BUSH REPRESENT YOUR MORTAL ENEMIES WHO, AFTER THOUSANDS OF YEARS, ARE STILL LIVING, WORKING AND INTERMARRYING AMONG WE THE PEOPLE BY CLAIMING TO BE ONE OF US RIGHT THIS SECOND. THIS IS NOT A CONSPIRACY "THEORY". IT IS AN UNQUESTIONABLE FACT THAT'S WELL DOCUMENTED HISTORICALLY.

---
HERE'S WHAT GOD SAID VIA JESUS/YESHUA ABOUT THOSE VERY SAME SUBVERSIVES AND TREASONOUS LIARS WHO WERE LIVING AMONG WE THE PEOPLE IN HIS DAY;
Revelation 2:9 I know thy works, and tribulation, and poverty, (but thou art rich) and I know the blasphemy of them which say they are Judahites, and are not, but are the synagogue of satan.
Revelation 3:9 Behold, I will make them of the synagogue of satan, who say they are Judahites, and are not, but do lie; behold, I will make them to come and worship before thy feet, and to know that I have loved thee.
Mohamet also HATED SATANIC jEWS while serving YHWH just like Yeshua ; While God was dictating the Quran to Mohamet via the angel Gabriel, Mohamet said;

Quran 5:60 "Shall I inform you of something regarding the recompense from God: those (jews) who incurred the Curse of God and His Wrath . . . those who worshiped satan; such are worse in rank (on the Day of Resurrection in the Hell­fire) and far more astray from the Right Path." (Once again we have satan worshipping jews or "satanic jews" exactly like in the Bible!)
But what is satanism? Firstly, real Biblical satanism is NOT the same as the modern kiddie versions such as the Temple of Set and Church of satan created by CIA operatives Michael Aquino and Anton Lavey back in the 60s.

(That was done to fool American Christians and Muslims about ACTUAL, Biblical satanism!!! Also note, Laveys' hand gesture like that of Bushs' in the video, it's not about being a Texas Longhorn fan is it!?)
Let's define the original form of Biblical "satanism";

Definition of satanism
1

:

innate wickedness
2

:

obsession with or affinity for evil; specifically

:

worship of satan marked by the travesty of Christian

"rites"



So, satanists are anyone who honors satan by disrespecting or undermining the teachings and methods of honoring God ("rites") known as "the Right Path" aka "The Way" which original Abrahamic faiths of Christianity and Islam are based on. This is how YHWH told us via His servants such as Christ and Mohamet to live FOR OUR OWN GOOD. (YHWH is the God of Abraham who all Christians and Muslims are supposed to obey, worship and honor!) If YOU don't follow and espouse that others also follow YHWHs' 10 simple commandments, YOU are serving satans' desires and will be judged for transgressing the law! CRAZY RIGHT? Nope. But let us continue "truthing" about "the group" being exposed in those videos;

---
THE MILLION DOLLAR QUESTION;
"Who are of the synagogue of satan?"
As you'll see, that truly is a million dollar question. But first we must be clear on the FACT there obviously have not been any Judahites ("Jews" for short) from the actual tribe of Judah or any Judeans from the long gone country of Judea since biblical days. It is clear that no one can realistically claim ancestry to any of the tribes of Israel without a decent percentage of pure blood which *no one has. (*A possible exception is noted below but that's a whole other subject) And the kicker is this; if you recall, DNA mapping is a recent advent not available to the millions and millions before us who have forever made their false claims! I guarantee you this short section of text and/or the audio file below will prove beyond any doubt there are no real Judahites (Jews) living today and that it is a massive, satanic LIE for anyone to claim it's their RACE.

---
Here is a short, simple to understand scholarly discussion about this subject based 100% on biblical facts, it cannot be debunked!
Download and share this 13 meg, 19 minute .mp3 of "NoSuchThingAsJewsCannotBeDebunked"!
---
Take a moment to realize that everyone who's ever claimed (privately or overtly) to be a "jew" (Judahite) over the last 1,000 years or so knows all about this problem because unlike everyone else, they've thought about it and debated it to ad nauseam. (to the point of insanity actually) They know their ancestors intermarried with other races and religions for 1,000s of years just as they do today. This alone makes being a real, blood Judahite from Judahs' loins impossible. The people who falsely claim to be of Judahs' lineage/blood also know anyone can become one of them because theirs' is an organization (aka congregation/synagogue), not a race. This is why there are blacks, browns, reds, yellows, whites and everyone in between who all falsely claim to be Judahites around the world. Millions have stupidly converted to the synagogue of "judaism".
Aside from the possibility that a certain tribe in Ethiopia might be the most intact descendants of real monotheistic, Abrahamic, YHWH loving Judahites (there is much, solid evidence this is true) these simple facts irrefutably prove that the idea of an ancient RACE of Judahites remaining integrated among us today, but now in multiple colors is quite obviously, impossible. There is zero chance. NONE. It is a LIE.
THE WORDS "JEW" AND "JUDAISM" DID NOT EXIST IN BIBLICAL DAYS, THEY ARE NOT FOUND IN ANY OF THE ORIGINAL ARAMAIC, GREEK OR HEBREW TEXTS. NOR DID REAL JUDAHITES PRACTICE ANY RELIGION SEPARATE FROM THE OTHER 11 TRIBES OF ISRAEL.
JUDAISM IS A WORLDWIDE, ORGANIZED CRIME SYNDICATE BASED UPON THE "TALMUD", AN OCCULT (SECRET) BOOK OF RACIST PSYCHOPATHY. JUDAISM IS NOT A "RACE" NOR A "RELIGION".
ANYONE (including YOU) can convert to "JUDAISM"
ANYONE can become a "jew"!
HERE'S THE 3 WAYS;

Firstly; there is simply believing after being advised by someone near you that you're different than everyone else, you're a "jew". (i.e. usually one or both of your parents)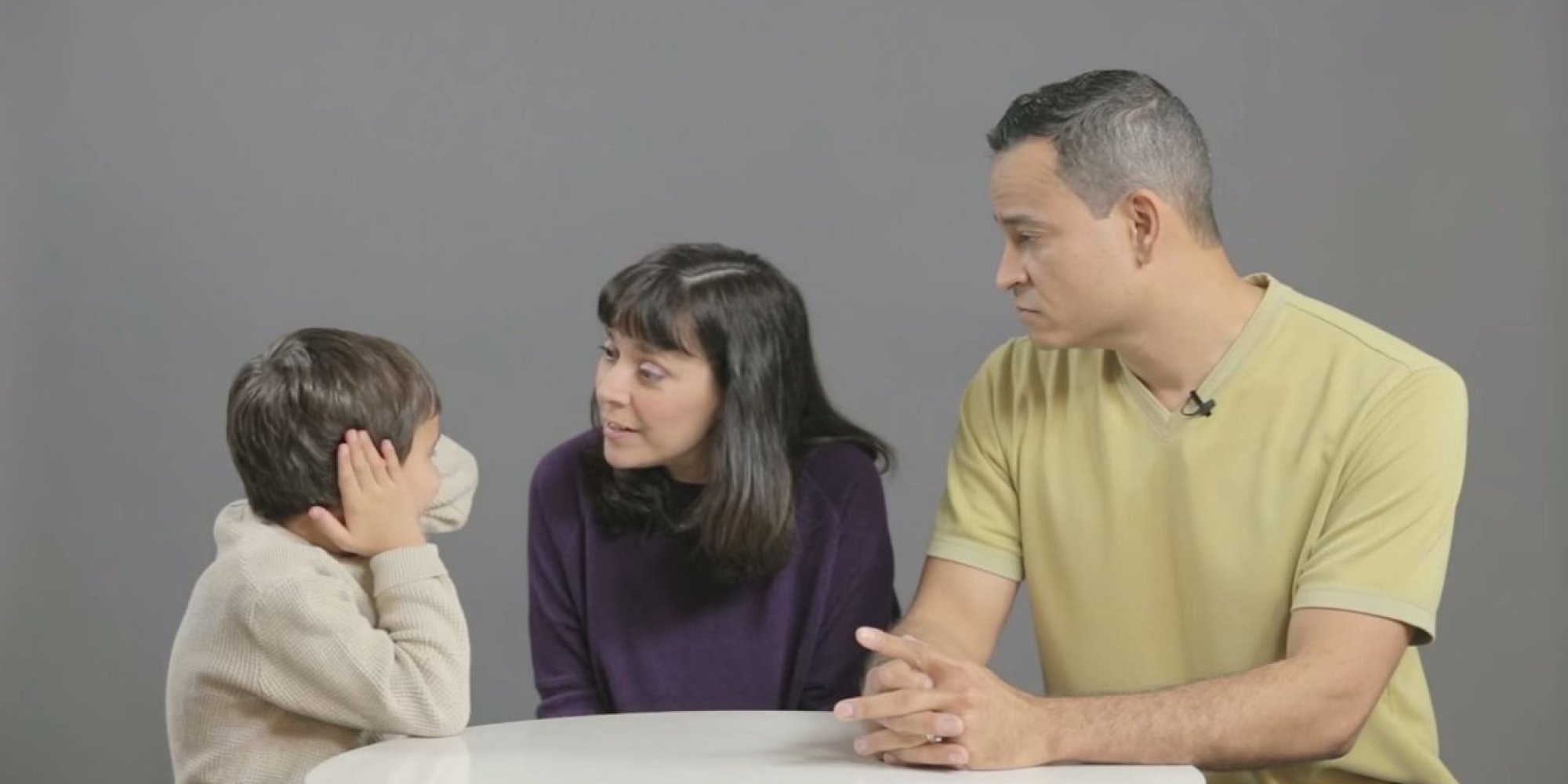 ---
The second way to become a jew is to directly or indirectly learn and observe talmudic laws;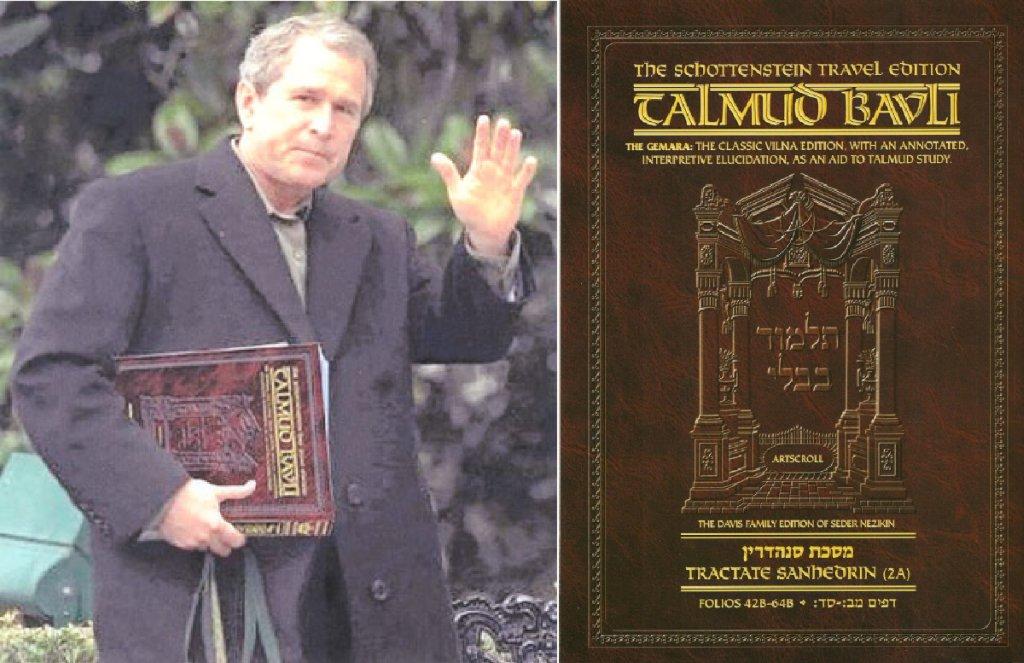 This book is what scores of good, God fearing people including Jesus/Yeshua have been persecuted for exposing. (He called its teachings "the traditions of elders", see Matt 15:1-9; Mark 7:1-23; also see Josephus, Antiq. XIII. xvi. 2 and be aware that jews themselves refer to it as "the oral law")
The Babylonian talmud is a book of racist, bigoted LAW which prescribes oppression, inequality and death to all non-jews. You'll be given a link to download the talmud below but can also click the following link to open a page for reading later on a short treatise on the talmud.
From that link, here are a few verses from the Talmud;
Jews May Lie to Non-Jews; Baba Kamma 113a; jews may use subterfuges (LIES) to circumvent a non-jew.
Non-Jewish Children are Sub-Human; Yebamoth 98a; "All non-jewish children are animals" Abodah Zarah 36b; "Non-jewish girls are in a state of niddah (menstrual filth) from birth" Abodah Zarah 22a-22b; "Non-jews prefer sex with cows"
jews are self descrbided sexual misfits, they are the original pedophiles; Sanhedrin 55b; "A jew may marry a three year old girl" (specifically, three years "and a day" old)
jews are self described homosexuals; Sanhedrin 54b; "A jew may have sex with a male child as long as he is less than nine years old." (any older is considered as "real homosexuality" to some jews, the rest don't care and actually promote all forms of homosexuality)
jews are self described, non-remorseful psychopaths; Kethuboth 11b; "When a grown-up man has intercourse with a little girl it is nothing."
---
The third and most common way to become a "jew" is . . . to practice any form/s of "jew-ish mysticism" until one day you wake up and realize that you are doing what satanic jews have done for millennia.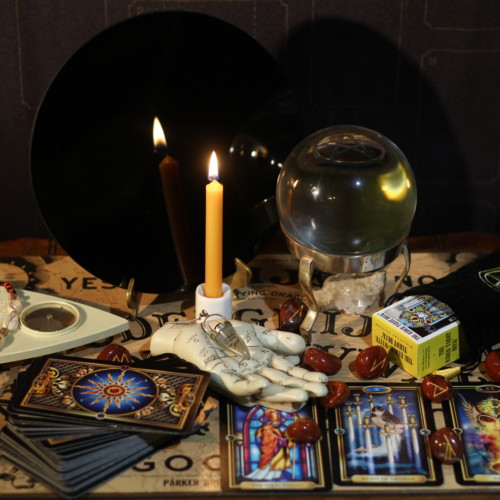 Practicing jew-ish mysticism is how most "new jews" come to be. If you play with astrology, numerology, divination, (future telling) seances, magic spells, "new age meditation", alchemy, tarot, ouija or etc. evils condemned by God (all of which are forms of satanism/witchcraft/sorcery) eventually you simply end up realizing that you share the same beliefs/interests as those who are calling themselves jews. Then, VOILA, when you ask yourself what/who you are, you know you're a fake jew! (not a real Judahite nor a Judean, neither of which exist today)

And with a little research about your new sect, next comes the realization that your beliefs have gotten millions and millions of others like you hated, prosecuted, exiled and killed by We the People in over 108 countries on earth for millennia. This is due to many things such as jews being racist and bigoted liars, cheats, abusers, oppressors and murderers of We the People and animals. Both of whom they're very well known for killing in blood sacrifices.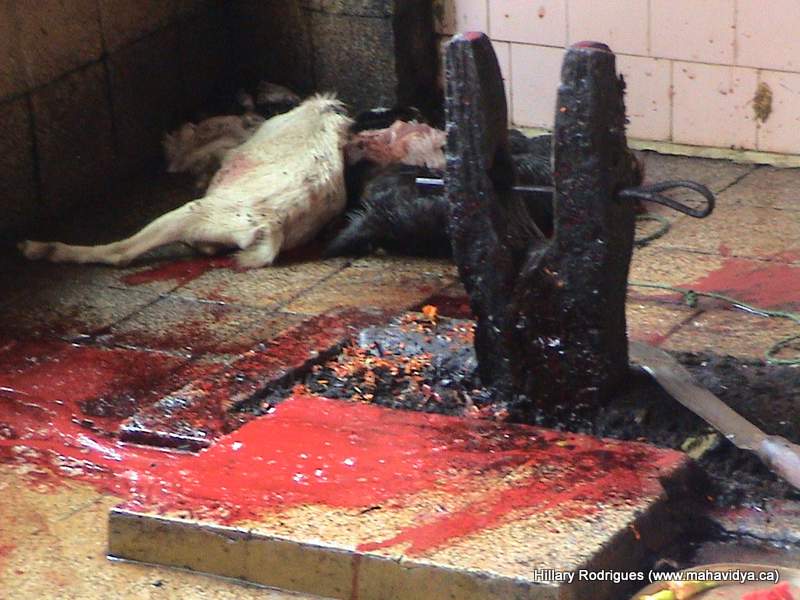 Blood sacrifices are common among satanic jews across history, one that continues openly today is during the jew-ish holiday of "kipparot" when millions of defenseless birds are literally tortured 100% intentionally by psychopathic jews. They think the suffering of these docile creatures will aid in the atonement of their sins which the poor animals are insanely thought to pay for!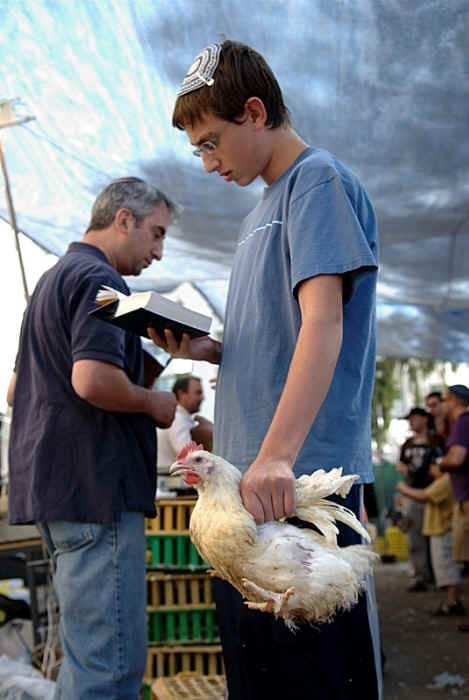 Can you imagine teaching your kids to hate and abuse these innocent creatures in the name of God?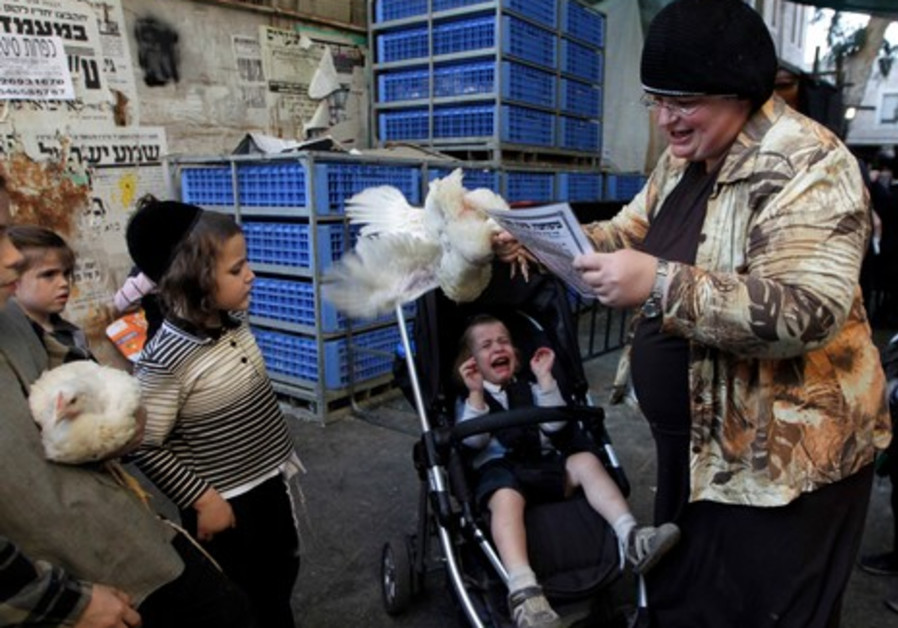 MILLIONS OF TOTALLY DEFENSELESS BIRDS ARE TORTUOUSLY SWUNG BY THEIR FEET OR WINGS OVER THE HEADS OF jEWS FOR AN ENTIRE DAY OF HELL BEFORE BEING MERCILESSLY KILLED BY BEING STUFFED UPSIDE DOWN IN CONES TO HAVE THEIR NECKS SLICED AND BLOOD DRAINED. HERE'S A "LUCKY ONE" THAT DIDN'T DIE YET . . .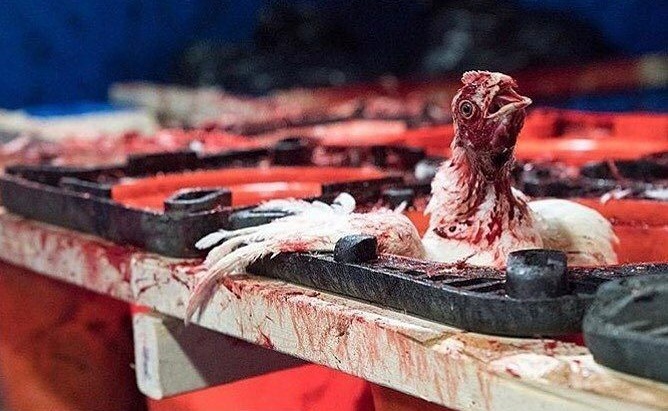 THEY, MILLIONS OF THESE INNOCENT CREATURES EACH YEAR, ARE THEN THROWN AWAY LIKE GARBAGE, NOT EVEN EATEN.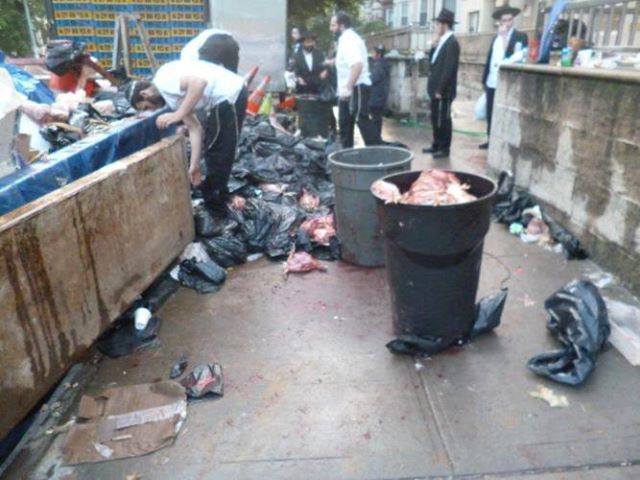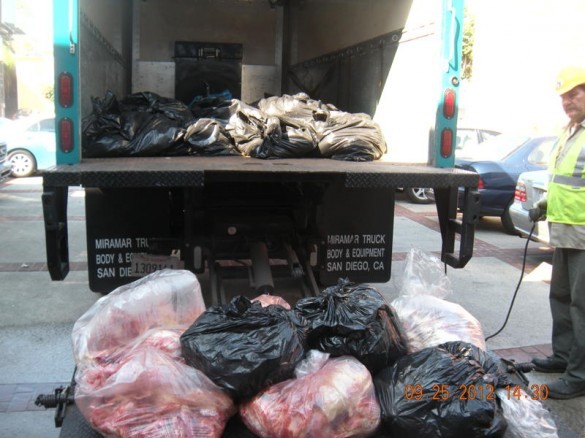 Here's a few pics of merciless and inhumane "kosher blood slaughters" not unlike that of the chickens;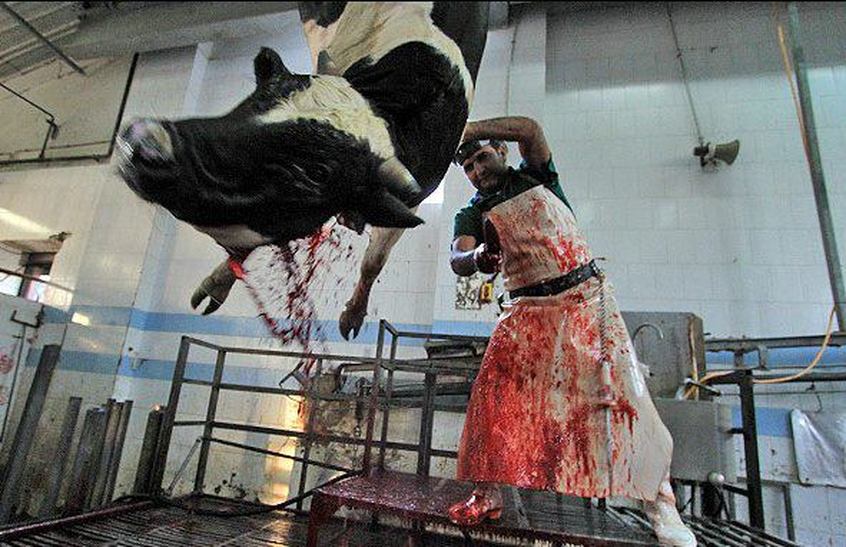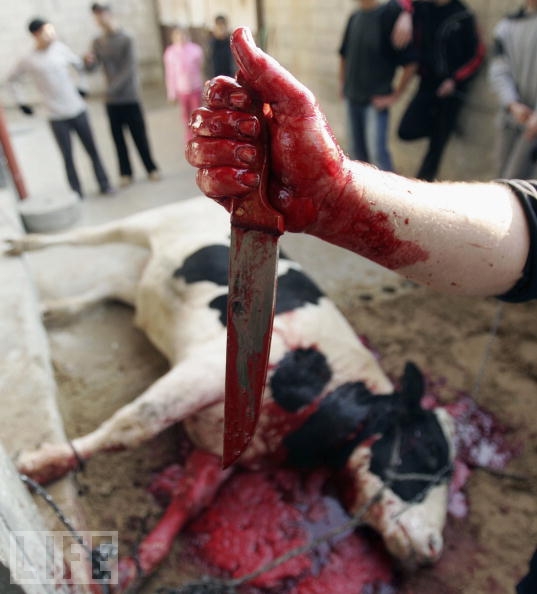 This next one is how they do it with mechanized shoots in mass production for the American public. The innocent creature is spun upside down, throat slit, larynx removed so it cannot scream and then let go to bleed to death in the slaughter room;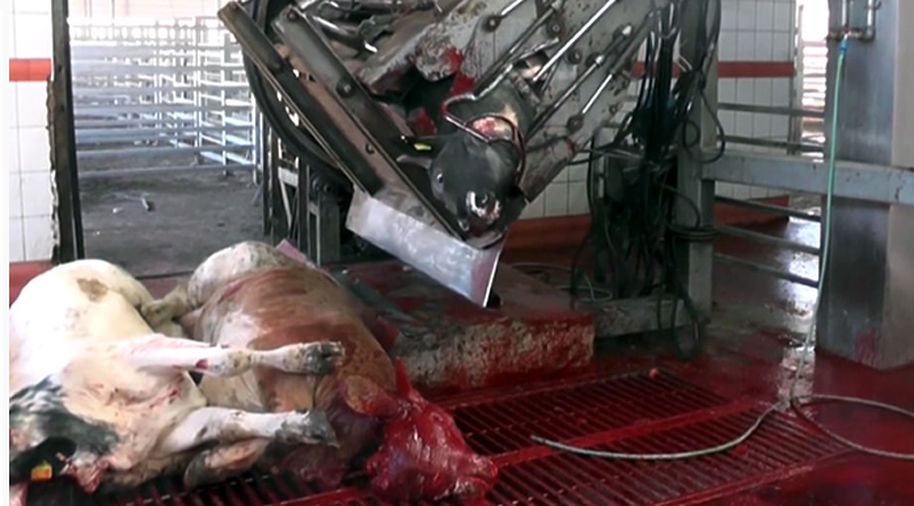 FYI; The jew-ish word "goyim" is used by the satanic jews to describe non-jews, it means cattle or nations, which they believe they are superior to. Hence, what's known as "blood libel" from performing human sacrifices upon We the People like shown in this VERY REAL PICTURE;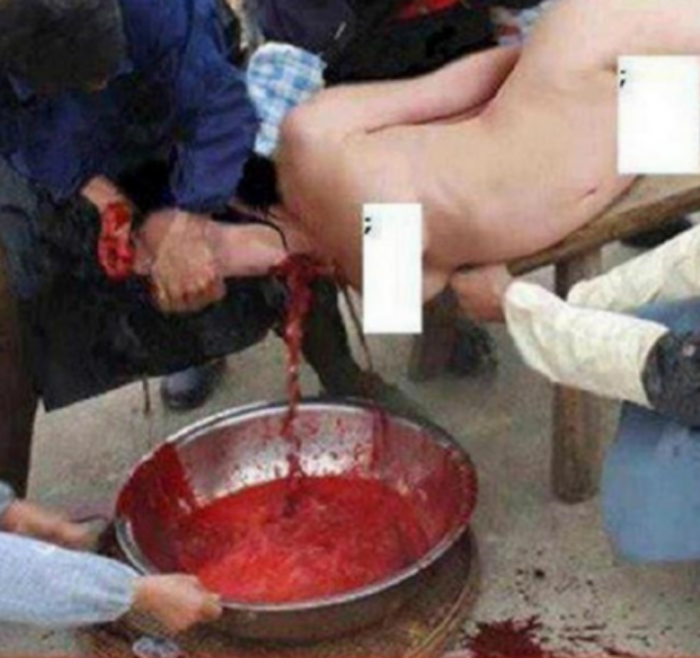 Now as a new jew, the reason you'll come to think this is ok is because you'll come to know how much We the People truly do hate those like YOU. In time, you'll also come to realize the bible clearly says that along with being despised by We the People of the world, God hates you and has promised to send you to hell! It is at this point that you are 100% a satanic jew and no longer care about anything good.
So, there you have it, how to become a fake jew, no rabbi required. Nice and simple huh?

The other way to become hated by We the People and God is to side with the enemy. This is where EVERYONE needs to be extremely careful. Most don't even know anything about what you're learning here which means they are highly prone to unwittingly aiding and abetting the most evil and disgusting enemies that mankind and God have ever had. This is how being and remaining deceived can and will cost you your freedom, life and soul in the times that come!
DON'T GO DOWN WITH THEM, SUPPORT YOUR FELLOW MAN, WAKE UP NOW!!!
---
Along with these liars NOT being Judahites (real "Jews") the ones who claim to be also know there was no such thing as "judaism" in biblical times because members of the tribe of Judah and inhabitants of Judea were of the same MUSLIM faith as the other 11 tribes who ALSO worshiped Abrahams' God "YHWH", the ONLY God of Israel. YHWH is the God of Jesus, Mohamet and every other major prophet and messenger across history. Judahites and Judeans had the same "religion" as the rest of Israel, there was no name for it other than generic terms such as "submission to God". "Muslim" which is what all the 12 tribes and others who read the old testament texts did. There was no other religion among biblical peoples such as the Israelites. Here's the most profoundly clear and simple way of identifying one's faith;

BELOW ARE THE ONLY 3 BELIEF SETS IN OUR UNIVERSE.
WHICH ARE YOU?
MONOTHEISTIC
POLYTHEISTIC
NONTHEISTIC
Biblically Known as;
BELIEVERS, ANOINTED, GOD FEARING, ABRAHAMISTS, MUSLIMS, YHWHISTS, PROPHETS, SERVANTS, APOSTLES, GOODLY, GODLY, OBEDIENT, CHILDREN OF GOD, ESSENES, NAZARITES, FOLLOWERS OF CHRIST, CHRISTLIKES, MESSIANICS, GOD FEARING, THE FAITHFUL, MESSENGERS, ETC.
Also Now Known As;
QURAN PUSHERS, BIBLE THUMPERS, MUSSIES, FUNDIES, HAJJIS, ABBIES, REALISTS, TRUTHERS, EXTREMISTS, PURISTS, CREATIONISTS, CONSTITUTIONALISTS, ETC.

Monothiests must worship YHWH as their creator and one and only God, Lord, Eloh, Allah, Vishnu ect. (Those are just generic titles, YHWH is His actual name we are supposed to use.) YHWH is the God of all the famous prophets such as Krishna, Abraham, Moses, Job, Jesus and Mohamet as well as all the Israelites. YHWH is the God of the old testament where His name was used 5410 TIMES before being hidden from We the People by members of the synagogue of satan who were known as "scribes". It was never used in the new testament because those satanic jew-ISH scribes are who re-wrote and compiled it!

THE BIBLE; "See now that I, even I, am he, and there is no god with me: I kill, and I make alive; I wound, and I heal: neither is there any that can deliver out of my hand" That was Deuteronomy 32:39 "I am he:before me there was no God formed, neither shall there be after me. I, even I, am the LORD; and beside me there is no savior" Isaiah 43:11 "Why do you call me good? No one is good except the ONE GOD" By Yeshua in Mark 10:18

THE VEDAS; "There is only one God, worship Him" Rig Veda 6.45.16 "Do not worship any one beside Him" Rig Veda 8.1.1 "God is only one, not a second" Chandogya Upanishad 6.2.1

THE QURAN; "YHWH has never begotten a son. Nor was there any other god beside Him" 23:91 "YHWH, there is no god but He, the Living, the Self Subsisting, Eternal." 3:2 "Therefore, you shall devote yourself to the religion of strict monotheism. Such is the natural instinct placed into the people by YHWH Such creation of YHWH will never change. This is the perfect religion, but most people do not know. 30:30

Biblically Known as;
SYNAGOGUE OF SATAN, LIARS, PHARISEES, SADDUCEES, SCRIBES, PAGANS, MYSTICS, SORCERERS, FALSE PROPHETS, WARLOCKS, WITCHES, MAGICIANS, SEERS, HERMETICS, HERETICS, DECEIVERS, ETC.
Also Now Known As; JEWS, TALMUDISTS, GNOSTICS, MASONS, ILLUMINATI, LUCIFERIANS, ROSICRUCIANS, NUMEROLOGISTS, SOOTHSAYERS, FUTURE TELLERS, CLAIRVOYANTS, PSYCHICS, MEDIUMS, ASTROLOGERS, SKULL & BONESMEN, OPUS DEI, KNIGHTS OF COLUMBUS, ORDER OF DEATH, BOULE SOCIETY, P2 LODGE, BLACK SHIRTS, JOHN BIRCH SOCIETY, BLACK NOBILITY, ORDER OF GARTER, OCCULTISTS, SATANISTS, RABBIS, WICCANS, SPIRITUALISTS, TRINITARIANS, JUDEO CHRISTIANS, CULTISTS, CHURCHEES, THE DAMNED, ETC.

UNLIKE YHWH, NONE OF THEIR DEITIES LISTED BELOW CAN CREATE, DESTROY, HEAL OR INJURE ANYTHING IN THE PHYSICAL WORLD NOR CAN THEY ENTRAP YOUR SOUL. "And I say unto you my friends, Be not afraid of them that kill the body, and after that have no more that they can do. But I will forewarn you whom ye shall fear: Fear Him, which after He hath killed hath power to cast into hell; yea, I say unto you, fear him" Luke 12:4-5

FALSE EGYPTIAN DEITIES
Aah, Abtu, Ahti, Aken, Aker, Amathaunta, Amaunet, Amenhotep, Ament, Ammit, Amn, Amsit,

Amun

, Amun-Ra, Anat, Andjety, Anet, Anhur, Anit, Ankhet, Anouke, Anti, Anubis, Apedemak, Apep, Apis, Arensnuphis, Aten, Atum, Ba, Ba-Pef, Babi, Baal, Banebdjetet, Bast, Bat, Benu, Bes, Beset, Buto, Chenti-Cheti, Chenti-Irti, Cherti, Chontamenti, Dedun, Dua, Duamutef, Ehi/Ihu, Geb/Keb, Nut, Ha, Hah/Heh/Hu, Hapi, Hapy, Har/Nedj/Hef, HarPaKhered, Harmakhis, Haroeris, Hat-Mehit, Hathor, Hauhet, Hedetet, Heket, Hemen, Hemsut, Henet, Heptet, Herishep, Heru-Behudti, Hez-Ur, Heka/Hike, Horus, Iat, Ihy, Imentet, Imhotep, Imiut, Iptet, Isis/Aset, Jah, Kebechet, Kebechsenef, Kek/Kuk/Keku, Kemur, Ken, Khepri, Khnum, Khons, Kneph, Maat, Mafdet, Mahes, Mehen, Mehurt, Menhit, Monthu, Meret, Meretseger, Meskhenet, Min, Molech, Mnewer, Mut, Nephthys, Nef, Nefertem, Nehebkau, Neith, Nekhbet, Neper, Nepit, Nun, Nunet, Nut, Osiris, Petbe, Ptah, Qetesh, Ra, Renenet, Renpet, Renpham, Reshep, Sahu, Satet, Sebek/Sobek, Seker/Sokar, Sekhmet/Sachmet, Sepa, Serket, Seshat, Sesmu, Set/Seth, Shai, Shait, Shed, Shesmetet, Sekhmet, Bastet, Shu/Su, Sopdet, Sopdu, Sphinx, Tatenen, Taweret/Taueret, Tefen, Tefnut/Tefnet, Thoth/Tetu, Tutu, UnNefer, Unut/Un/Wenet, Wadj-Wer, Wadjet, Weneg/Uneg, Wepawet/Wepwawet, Wosyet/Waset,

FALSE GREEK DEITIES
Achelois, Achelous, Aeolus/Aeolos, Aether/Ether, Alastor, Alcyone, Alectrona, Amphitrite/Salacia, Antheia, Aphaea/Aphaia, Aphrodite/Venus, Apollo/Apollon, Ares/Mars/Aries, Aristaeus/Aristaios, Artemis/Phoebe, Asclepius/Asklepios, Astraea, Até, Athena/Minerva, Atlas, Atropos, Attis, Bia, Boreas/Aquilon, Brizo, Caerus, Calliope, Calypso/Kalypso, Castor/Kastor, Celaeno, Cerus, Ceto/Keto, Chaos/Khaos, Charon/Charun,

Chronos/Saturn

, Circe/Kirke, Clio, Clotho/Nona, Crios, Cronus, Cybele, Demeter, Dinlas, Dionysus, Doris, Eileithyia/Eleuthia, Eireisone, Electra, Elpis, Enyo, Eos, Erato, Erebus, Eris, Eros/Amor or Cupid, Eurus, Euterpe, Gaia/Celu/Terra, Glaucus/Glaukos, Hades/Orcus or Pluto, Harmonia/Concordia, Hebe, Hecate, Helios, Hemera, Hephaestus, Hera/Juno/Uni, Heracles, Hermes/Mercury, Hesperus, Hestia/Vesta, Hygea/Salus, Hymenaios/Hymen, Hypnos/Somnus, Khione, Kotys, Kratos, Lacheses/Decima, Maia/Fauna or Bono, Mania/Manea, Melpomene, Merope, Metis, Momus, Morpheus, Nemesis/Invidia, Nereus/Phorcys, Nike/Victoria or Nice, Notus/Auster, Nyx/Nox, Oceanus, Pallas, Pan/Faunus or Inuus, Peitha/Suadela, Persephone/Libera, Pheme/Fama, Phosphorus/Lucifer, Plutus, Pollux/Polydeuces, Polyhymnia, Pontus/Pontos, Poseidon/Neptune, Priapus, Pricus, Proteus, Rhea/Cybele, Selene/Luna, Sterope/Asterope, Styx, Tartarus, Taygete/Taigeti, Terpsichore, Thalia, Thanatos, Themis, Thetis, Triton, Tyche/Fortuna or Nortia, Typhon/Typhus, Urania, Uranus/Ouranos or Caelus, Zelus, Zephyrus,

Zeus aka Dias/Jupiter or Pater (father)





FYI; the scribes who worshiped zeus, the planet Jupiter, renamed Yeshua to ye-sus while writing the NT in zeus' honor. Then circa 1580 King James invented the letter J for the English language and had his scribes use it for himself and Jezeus to make the names sound more masculine. But he was queer. This is how satanic jews got Christians to worship and call upon their false gods like zeus as they pr e y each SUNday and thank "Amun" their sun god when done. That while the satanic jews observe YHWHs' sabbath on what they long ago named Satur n day. Saturn/chronos was the father of Jupiter/zeus. The point; We the People, especially Christians and Atheists/Agnostics have been heavily deceived and mocked by fake Judahites of the synagogue of satan who own and control virtually everything in our world of current. But not for much longer!



Above was but a smattering of false deities worshiped by beguiled, erring peoples from the biblical genres/cultures to present. There are many, many thousands more from around the world throughout history but YHWH is and has always been the one true "God of gods" who can create, maintain or destroy at will.

PSALMS 81; YHWH hath stood in the congregation of gods: and being in the midst of them He judgeth gods" How long will you judge unjustly: and accept the persons of the wicked? Judge for the needy and fatherless: do justice to the humble and the poor. Rescue the poor; and deliver the needy out of the hand of the sinner"

YHWH, the merciful and compassionate is the God of gods! That's who is going judge over us all on that great and terrible day. (great for some, terrible for the rest) IT'S TIME!
Biblically Known as;
LOSERS, INGRATES, DISBELIEVERS, UNBELIEVERS, BLASPHEMERS, HEATHENS, ETHNICS, FAILURES, GENTILES, THE GODLESS, FOOLS, INFIDELS, KAAFIRS, DISOBEYERS, ETC.
Also Now Known As;
ATHEISTS, AGNOSTICS, PYRRHOISTS, SCIENTOLOGISTS, NEW AGERS, DARWINIANS, EVOLUTIONISTS, MATERIALISTS, LEMONS, THE BLIND, CLAMHEADS, ETC.

99.9999% of nontheists are what they are due to being brainwashed by fake jews of the synagogue of satan who control the curriculum in all the major schools and own all the major media (TV/Radio channels, newspapers, magazines and publishing houses, Hollywood and Disney) all the major social websites (Facebook, Youtube, Twitter etc.) and search engines (Google, Yahoo, Bing etc.) and run all the corrupt 503 (c) corporate churches in America. They don't want WTP to know YHWH because there is much morality and power in doing so which we will swiftly use against them exactly as we repeatedly have across history. (WTP have ran fake jews of the synagogue of satan out of 108 countries in the last millennia. Germany was the largest expulsion of recent. Due to YHWHs' master plan ending with the day of judgment for everyone, America and then the entire world will be the next and last time this occurs. That time is now and this writing marks its beginning in earnest! The problem there for both polytheists and nontheists alike is obvious. For the good among them, it's time to re-evalutate folks! And don't worry, we have just the medicine you need for surety below!!!)
So, in other words, you were either a Muslim, a satanist or an agnostic/atheist in biblical times which is still true now. (the latter 2 are anyone who is deceived, satanists are deceived by satan and atheists are deceived by satanists!) Those are the only 3 belief types of in our universe and guess which one judaism is? . . . That's right, satanism. Fake Judahites practice satanism which is exactly what Jesus and God told us in Rev 2:9 and 3:9. Do you remember?;
Revelation 2:9 I know thy works, and tribulation, and poverty, (but thou art rich) and I know the blasphemy of them which say they are Judahites, and are not, but are the synagogue of satan.
Revelation 3:9 Behold, I will make them of the synagogue of satan, who say they are Judahites, and are not, but do lie; behold, I will make them to come and worship before thy feet, and to know that I have loved thee.
And don't forget, it's exactly what Mohamet declared as well;
Quran 5:60 "Shall I inform you of something regarding the recompense from God: those (jews) who incurred the Curse of God and His Wrath . . . those who worshiped satan; such are worse in rank (on the Day of Resurrection in the Hell­fire) and far more astray from the Right Path."
THOSE ARE THE WORDS FROM YHWH WHO IS SUPPOSED TO BE WORSHIPED BY NAME BY 6 BILLION HINDUS, CHRISTIANS AND MUSLIMS WORLDWIDE.
(Jesus, Mohamet and God also told us that practicing satanism was against the law at penalty of death and sentencing to eternal hell because it is TREASON.)
And just like the name game with "Judahites" the same LIARS who are mocking YOU by saying they're jew-ISH do it again with satanism which they call judaism while reading their secret 3,000 year old book of law, the "babylonian talmud" (also available for download below) and practicing "kabbalah magic" with their many angels and false gods. (be very careful with those, they are full of psychosis and instructions of how to perform many forms of illegal, idolatrous worship, witchcraft and mysticism which is satanism that God forbid!)

Hence everyone claiming to be a "jew" (Judahite or Judean) while practicing "judaism" is a LIAR and as shown in those videos, much worse. I have irrefutably proven in every manner imaginable these disgusting psychopaths make up well over 90% of the mass murderers, rapists, pedophiles, animal abusers, frauds and thieves you've heard of in the news your entire life. They are Godless, degenerate, lying, scum, PERIOD.

And here's a great tip; if one of them ever says you're "anti-semitic" for exposing them with those videos or speaking the truth about them like Jesus and Mohamet did for God . . . GET RICH, SUE AND/OR PROSECUTE THEM FOR LIBEL, DEFAMATION AND/OR SLANDER! You can do this and win because you're not anti-Arab or anti-Ancient Asians which are defined as "semites"!
Definition of SEMITE
a : a member of any of a number of peoples of ancient southwestern Asia including the Akkadians, Phoenicians, Hebrews, and Arabs which have nothing to do with race but rather geographical locations. (note; Hebrew is a language not a race.)

b : a descendant of these peoples
Therefore if you take a stand against your mortal enemies by simply exposing them for what they are, YOU cannot be anti-semitic because YOU have said nothing hateful about REAL semites! YOU only HATE LIARS just like Yeshua, Mohamet and GOD.
---
THE WORDS "jEW" AND "ANTI-SEMITE" ARE COMMONLY FOUND IN MANY LAWS WHILE OTHERS SUCH AS "CHRISTIAN", "MUSLIM", "ATHEIST" ECT. ARE NOT. HENCE, WHAT YOU'VE JUST READ ABOVE IRREFUTABLY INVALIDATES MANY PARTS OF THOSE LAWS IF THEY ARE TO BE APPLIED TO EVERYONE EQUALLY PER THE CONSTITUTION. INSTEAD, THE FAKE JUDAHITES (aka jEWS) FRAUDULENTLY USE THEM TO BIGOTEDLY EMBOLDEN, PROMOTE AND PROTECT THEMSELVES. AND THAT, WITH THE VIDEOS ABOVE CONCLUSIVELY PROVES OUR COUNTRY HAS BEEN SUBVERTED BY THE SAME EVIL PSYCHOPATHS WHO JESUS, MOHAMET AND GOD WARNED US OF. COULD ALL OF THIS BE ANY CLEARER? WHAT MORE COULD POSSIBLY BE REQUIRED FOR ANYONE TO UNDERSTAND THAT EVERYONE CLAIMING TO BE A JUDAHITE IS A TREASONOUS, LYING, STEAMING PILE OF EXCREMENT.

IS THAT TOO MUCH?
ARE WE OVERSTEPPING?
I THINK NOT.

HATING LIARS AND EVIL IS EVERY GOOD PERSONS' NATURAL MOTIVATION AND DUTY! IT IS IN YOUR HEART TO BE REPULSED BY BOTH LIARS AND EVIL!!!

"There are six things the Lord YHWH HATES–no, seven things he DETESTS: haughty eyes,

a lying tongue

, hands that kill the innocent, hearts that plot evil, feet that race to do wrong, a false witness who pours out lies and those who sow discord among brothers."(note; 41,000 Christian denominations!) -Proverbs 6:16
" . . . You HATE all who do wrong; you destroy liars. The bloodthirsty and

deceitful

you, Lord, DETEST". -Psalm 5:5-6
"Lord YHWH, who may dwell in your sacred tent? Who may live on your holy mountain? The one . . . who DESPISES a vile person but honors those who fear the Lord" -Psalm 15
"I do not sit with the

deceitful

nor associate with

hypocrites

. I ABHOR evildoers and refuse to be with the wicked" -Psalm 26:4-5
"The Lord YHWH examines the righteous, but the wicked, those who love violence, he HATES with a passion"-Psalm 11:5
"I HATE them with complete HATRED; I count them my enemies" -Psalm 139:22
"HATE what is evil; cling to what is good" -Romans 12:9
"HATE the evil, love the good and establish justice" -Amos 5:15
"But as for the cowardly, the faithless, the detestable, as for murderers, the sexually immoral, sorcerers, idolaters,

and all liars

, their portion will be in the lake that burns with fire and sulfur, which is the second death." -Revelation 21:8
"Thy throne, O God YHWH, is for ever and ever: the scepter of thy kingdom is a right scepter. Thou LOVEST RIGHTEOUSNESS and HATEST WICKEDNESS: therefore thy God hath anointed thee with the oil of gladness above thy fellow men" -Psalm 45:6-7
". . . The fear of the Lord is to HATE EVIL" -Proverbs 8:13
Firstly, as you should be realizing, being a "jew" is a lie in an of itself which sets the precedent.

Hence, if you claim to be a jew,

YOU KNOW YOU ARE A LIAR

. They even have a prayer for lying which is recited on "Yom Kippur", the most solemn time of the year which is the last of the ten days of penitence that begin with Rosh Hashanah (the jew-ish New Year). Here's the "kol nidre" which all talmudic jews recite once every year to absolve them of lying;
The Kol Nidre is the holiest Jewish prayer and is recited repeatedly on Yom Kippur, the Day of Atonement. It means "all vows" and is a flat statement that no promise of any kind will be kept for the coming year. It is also sung by the cantor in synagogue, accompanied on the violin and goes like this:
"All vows, obligations, oaths or anathemas, pledges of all names, which we have vowed, sworn, devoted, or bound ourselves to, from this day of atonement, until the next day of atonement (whose arrival we hope for in happiness) we repent, aforehand, of them all, they shall all be deemed absolved, forgiven, annulled, void and made of no effect; they shall not be binding, nor have any power; the vows shall not be reckoned as vows, the obligations shall not be obligatory, nor the oaths considered as oaths."
SO, YES. ALL jEWS ARE SWORN LIARS!!!
And guess what, many of these fake Judahites also LIE and claim to be Christians, Muslims, Atheists or anything else to suit their agenda of subverting We the People everywhere on earth! (They especially love intermarrying with the rest of us while mocking and ridiculing We the People in their media and their corrupt govt. ran 501 (c) churches by getting us to abandon and break all of Gods' laws listed below.)
---
IF YOU NEVER DO ANOTHER THING AS LONG AS YOU LIVE, AT LEAST GRASP THESE TRUTHS ABOUT YOUR MORTAL ENEMIES IN THOSE VIDEOS. THERE IS NO SUCH THING AS A "jew" TODAY AND JUDAISM IS STILL SATANISM EXACTLY AS IT WAS IN JESUS' DAY.
THIS IS VERY BIG STUFF.
ACT LIKE IT MATTERS, CARE!

---
FOR PROSPERITY, ONE MORE TIME . . .

Revelation 2:9 I know thy works, and tribulation, and poverty, (but thou art rich) and I know the blasphemy of them which say they are Judahites, and are not, but are the synagogue of satan.
Revelation 3:9 Behold, I will make them of the synagogue of satan, who say they are Judahites, and are not, but do lie; behold, I will make them to come and worship before thy feet, and to know that I have loved thee.
That's who controls the curriculum in all the major schools and controls what's said about them by owning all the major media (TV/Radio channels, newspapers, magazines and publishing houses, satanic Hollywood and Disney) all the major social websites (Facebook, Google Plus, Youtube, Twitter etc.) and search engines (Google, Yahoo, Bing etc.) and runs all the corrupt, govt ran 503 (c) corporate churches in America. ALL OF THOSE ARE SATANIC PROPAGANDA OUTLETS USED TO DECEIVE WE THE PEOPLE ABOUT THEM. THE MEDIA, INTERNET, HOLLYWOOD AND CORPORATE CHURCHES ARE THEIR TOOLS TO CONTROL US AS SLAVES. BRAINWASHING AND ENSLAVING HUMANITY WAS THEIR ENTIRE AGENDA.
BUT REV 3:9 ABOVE ENDS WITH GOOD NEWS DOESN'T IT? "behold, I will make them to come and worship before thy feet, and to know that I have loved thee" YEP, THAT'S GOOD NEWS! AND THIS WILL BE TOO, WE'VE GOT GOOD NEWS FOR WE THE PEOPLE!

---
You should now know your enemies but let's make sure by learning a little about the disgusting jew-ish holiday of "purim". It's when these murderous haters of We the People make effigies representing "Haman" which is the heroic biblical figure who like God, Jesus and Mohamet called for the elimination of racism, oppression and satanism by way of eliminating racists, oppressors and satanists. (aka talmudists or jews) This sick, racist, hateful annual "celebration" occurs in late Feb to early March each year. Have a look at what they think of anyone who's not one of them, you know, other everyday people LIKE YOU AND YOURS;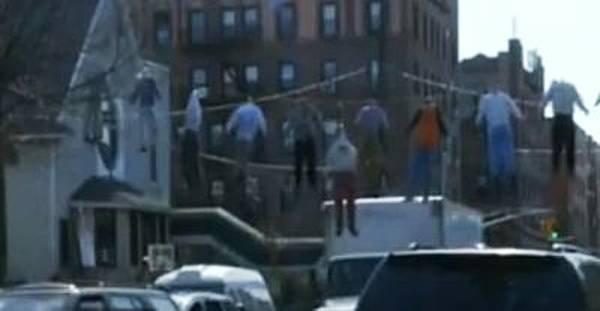 That's right, they want you and yours dead! Are you OK with that?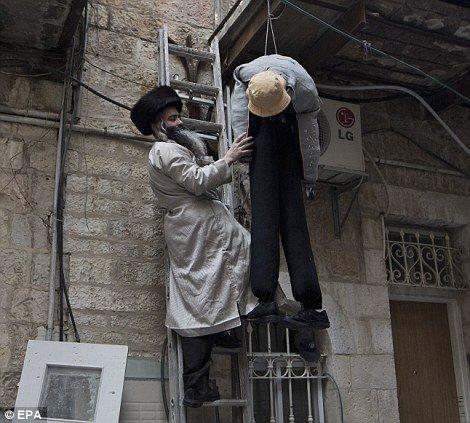 That symbolizes YOU being hung by the neck until dead by a kike!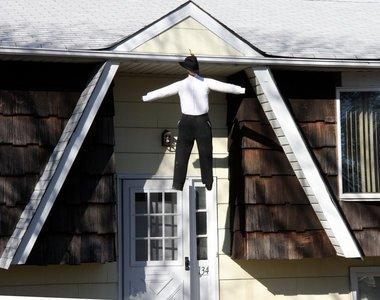 This one is obviously a white non-jew;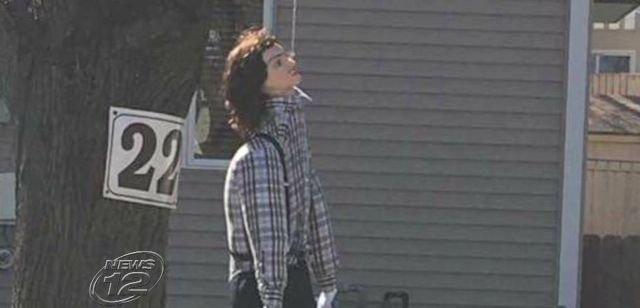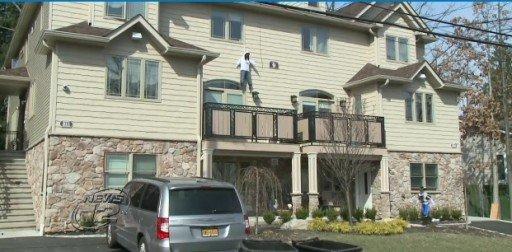 But they are equal opportunity haters of any color of non-jew;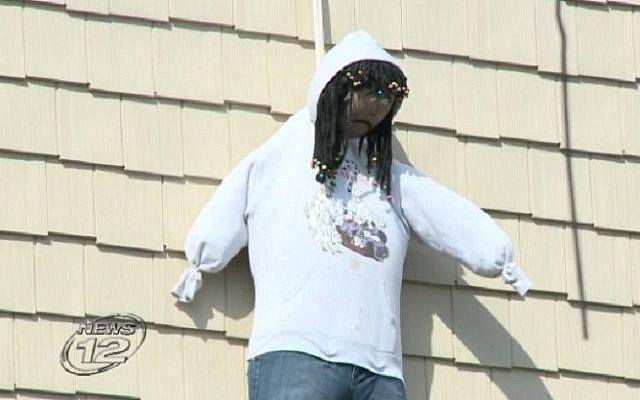 Do you think this is just a funny game? OK, go on about your day while watching all of your fellow non-jew human beings eat poisoned food, receive toxic vaccines, be totally stressed, become autistic, diabetic and addicted to drugs in their futile attempts to escape reality only to die early deaths. Get it? Hanging YOU and YOURS till dead isn't the only way to kill We the People is it? AND THAT IS WHAT THESE FILTHY, LYING SUBVERSIVES ARE CELEBRATING ON PURIM!!!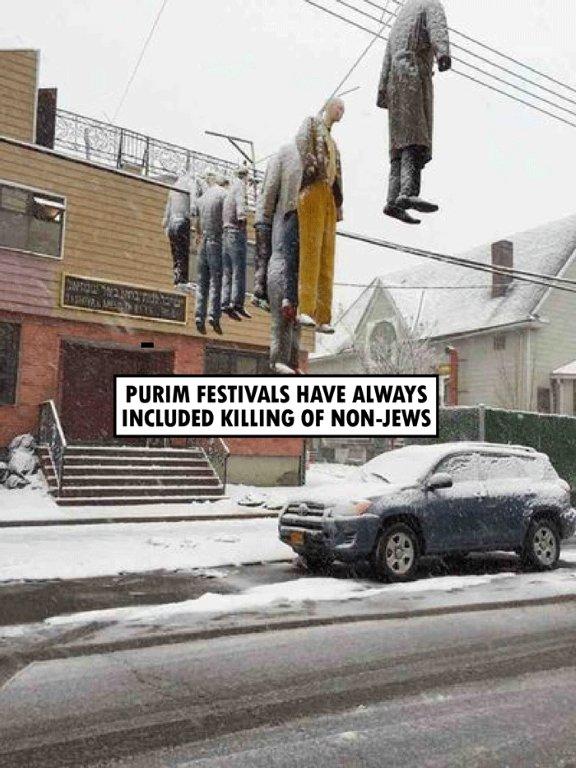 And don't forget about kipporat!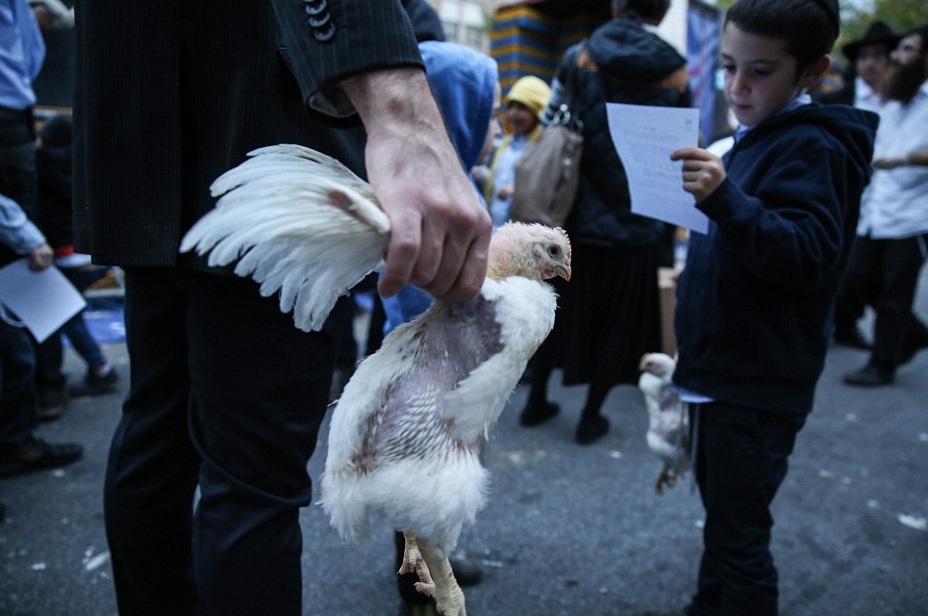 But back to purim, they even teach their kids this disgusting ritual of hateful, racist revenge and murder of YOU AND YOURS;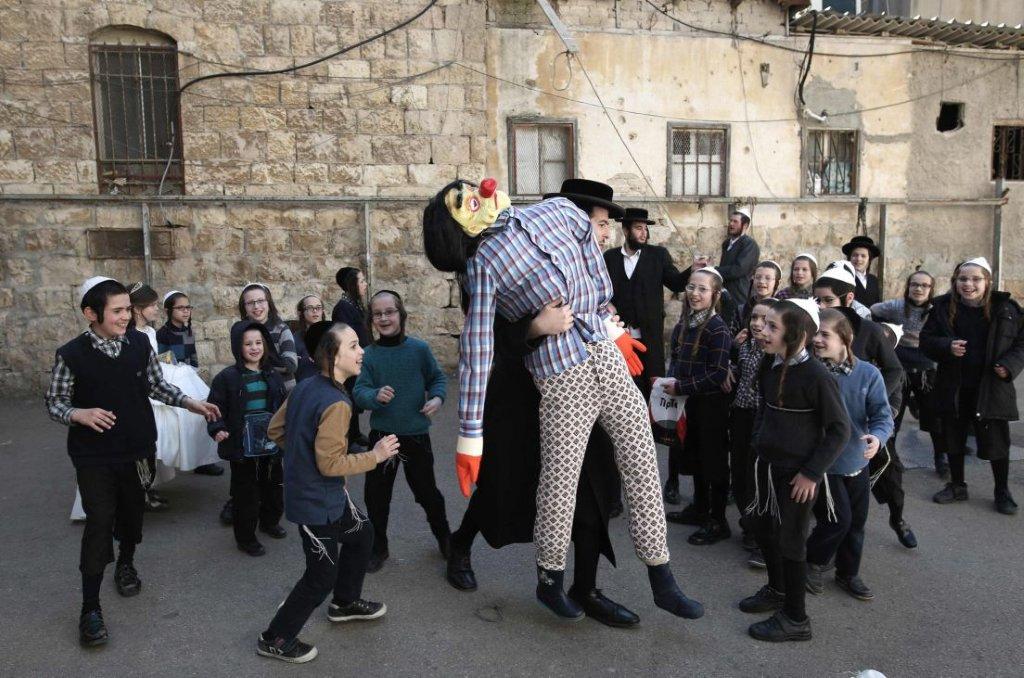 Another non-jew hung dead above their heads. Ain't that grand?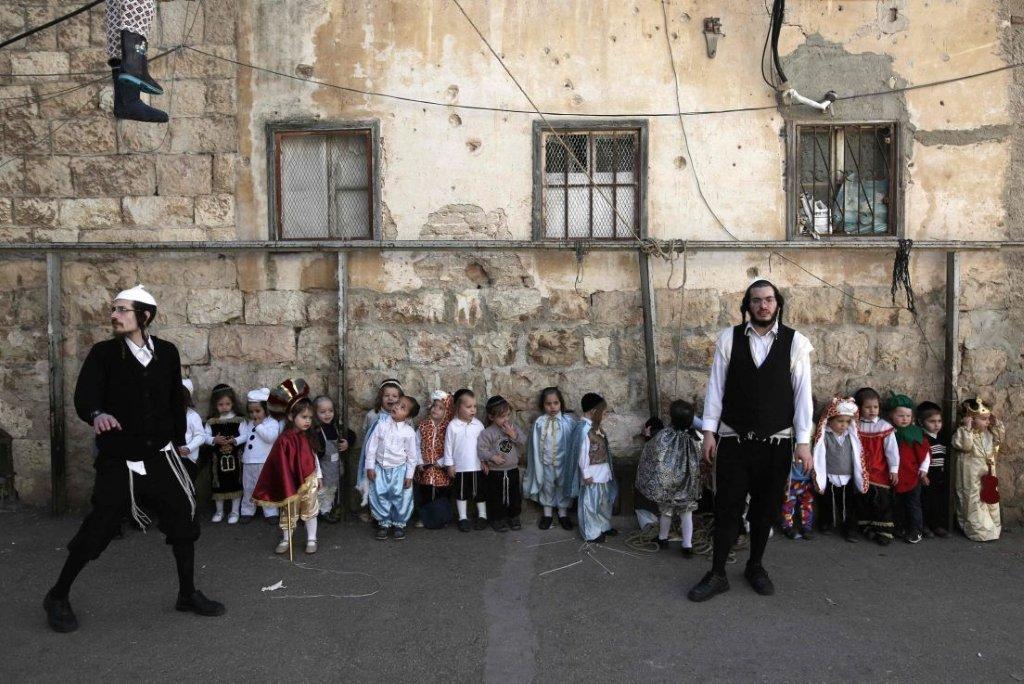 This is how all jews teach their children to feel about non-jews LIKE YOU AND YOURS;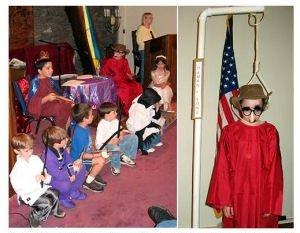 jEWISH CHILDREN LEARNING TO BEAT AND HANG NON-jEWS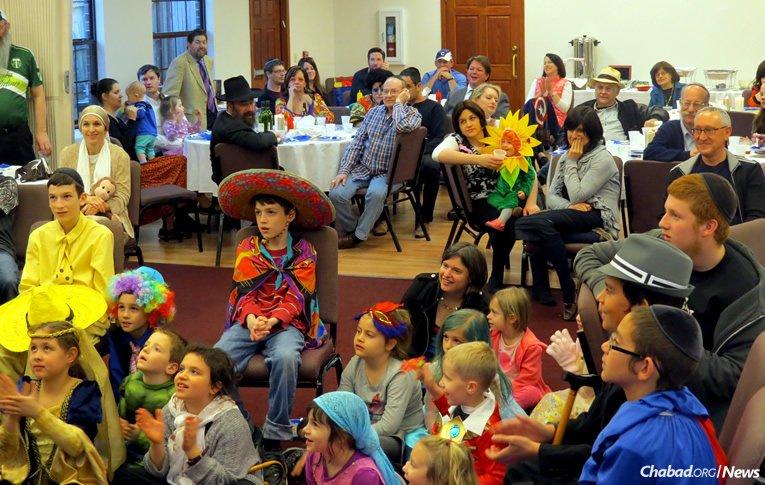 NOTE; All of the American jews look like everyday people don't they?
IT'S BECAUSE THE VAST MAJORITY OF jEWS LIE ABOUT THEIR REAL IDENTITIES! They live and work among We the People while LYING to us about themselves and their HATRED for everyone else.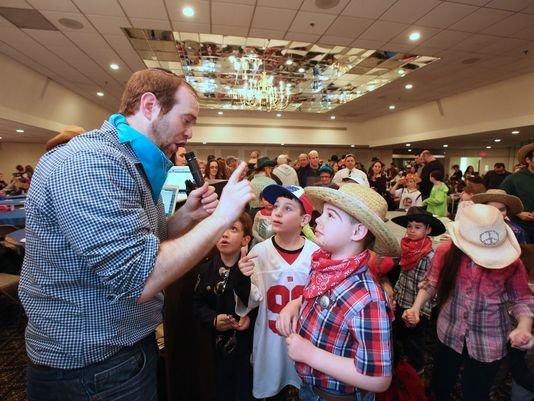 This one suggests that jews are like wolves but won't eat pork because it's not "traif" which means kosher;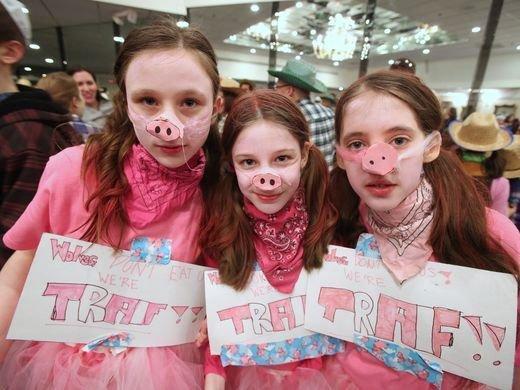 FYI; here's the irony of children being involved, it's from the bibles' story of Esther which tells us the reason God didn't allow Haman to eliminate all the murderous, lying filth is because the jews Esther and Mordecai hatched a scheme to use their children as shields by educating them with the torah to pray to and submit to YHWH. YHWH being the merciful and compassionate God he is, could not allow the death of believing innocents who were now calling upon His Holy Name.
And there you have the very telling story of how jew-ish lowlifes avoided justice by using and hiding behind their children!
And don't forget, it's not just America, purim is a celebration of jews killing We the People of the world all around the world!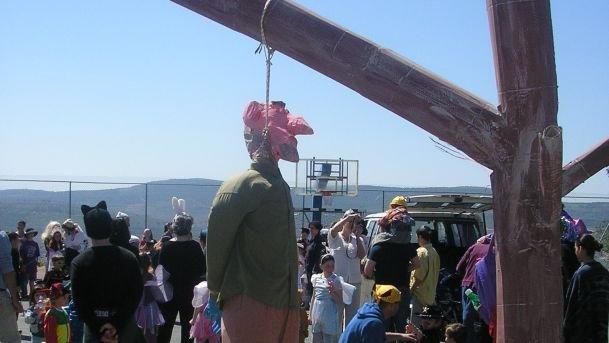 These jews think killing non-jews is fun, just like all of them do;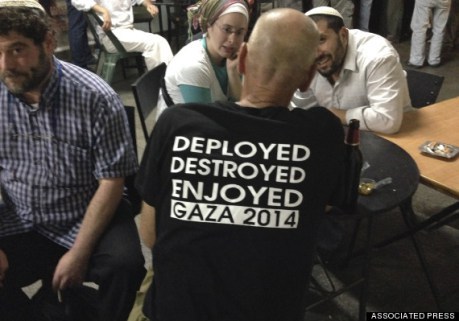 Take a look at what that sick, stupid kike is proud of doing to human beings/children;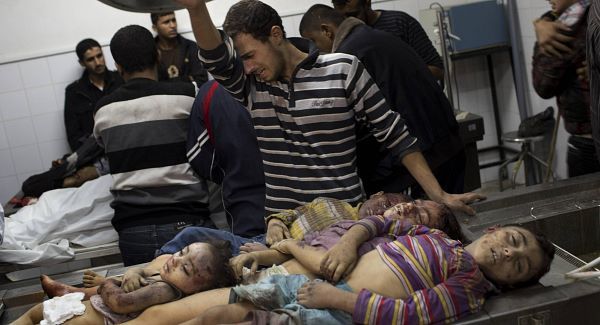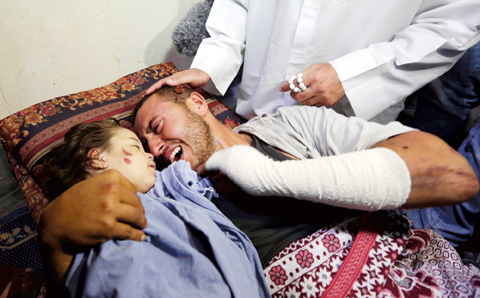 Trust me when I say, those non-jews are no different than YOU and YOURS. They want you DEAD.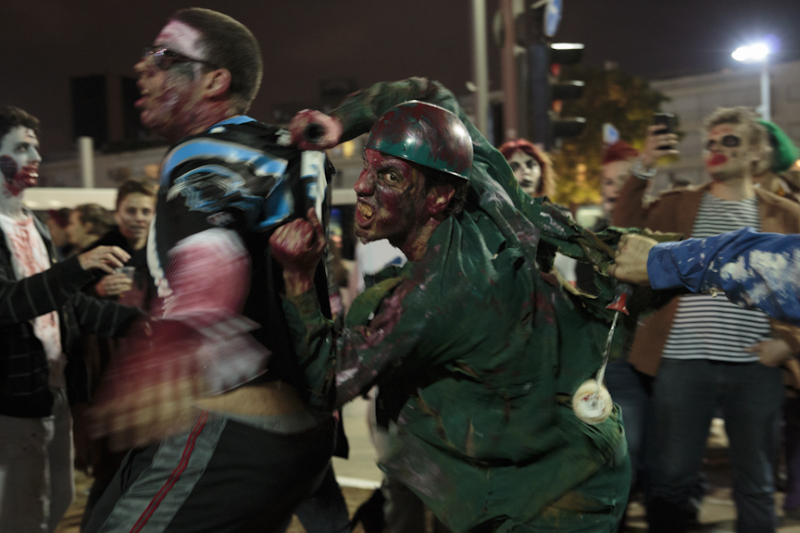 Funny huh?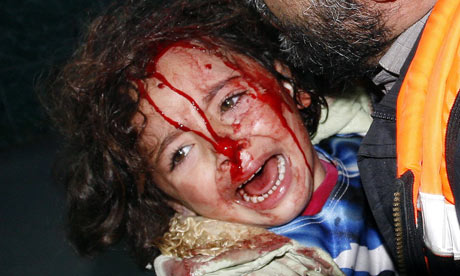 Want to know what "sick in the head" really means? They laugh at that. And this;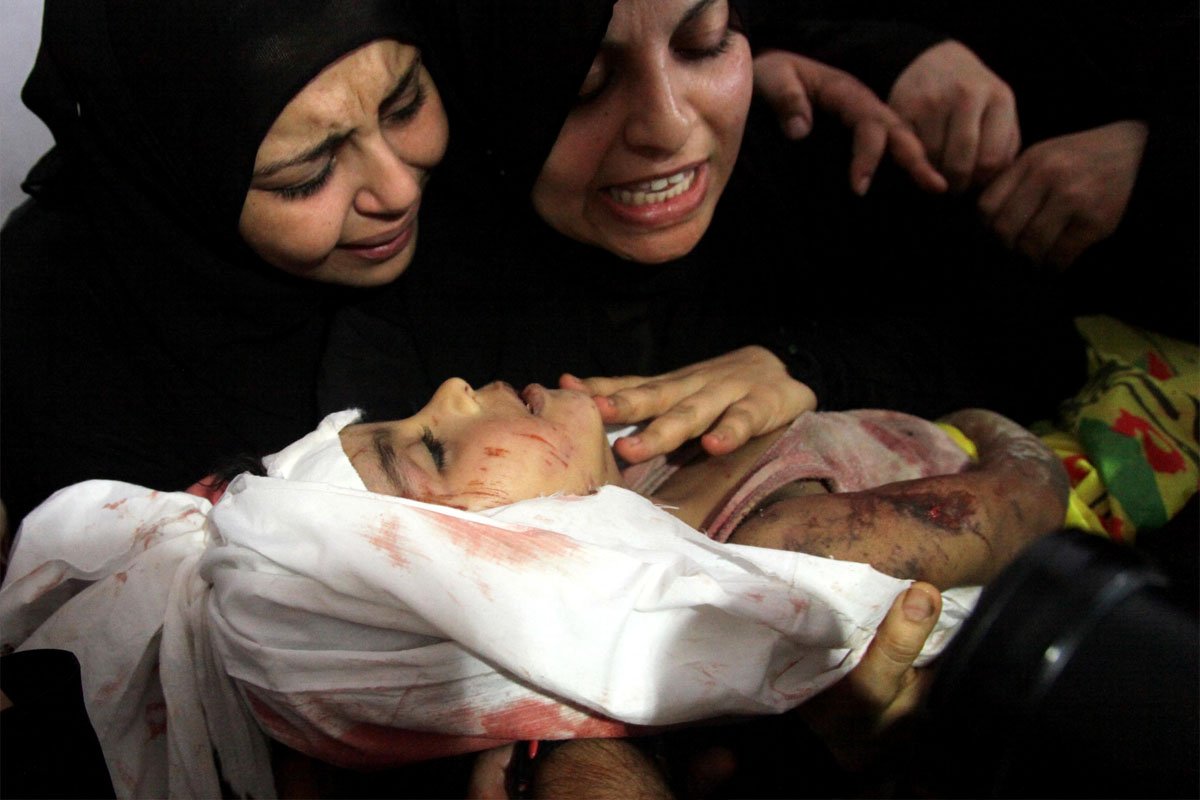 It doesn't matter where in the world you go, it's the same hatred from the same sick, insane group.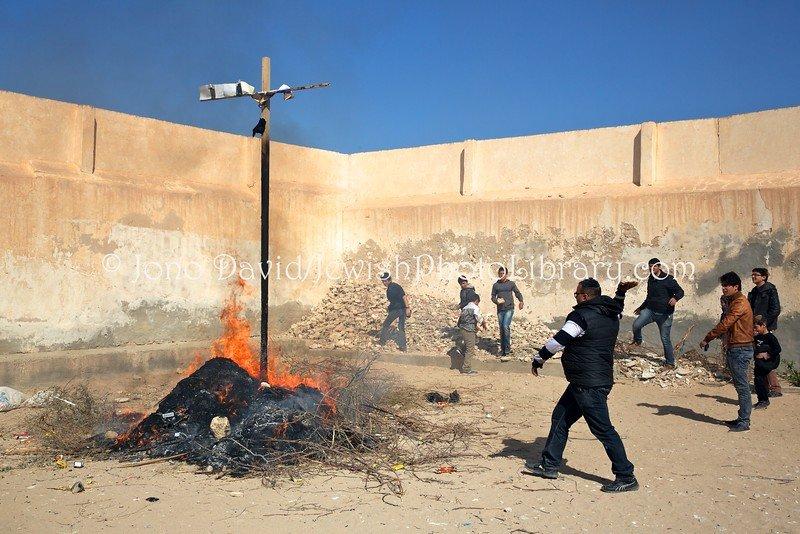 The same thing all around the world!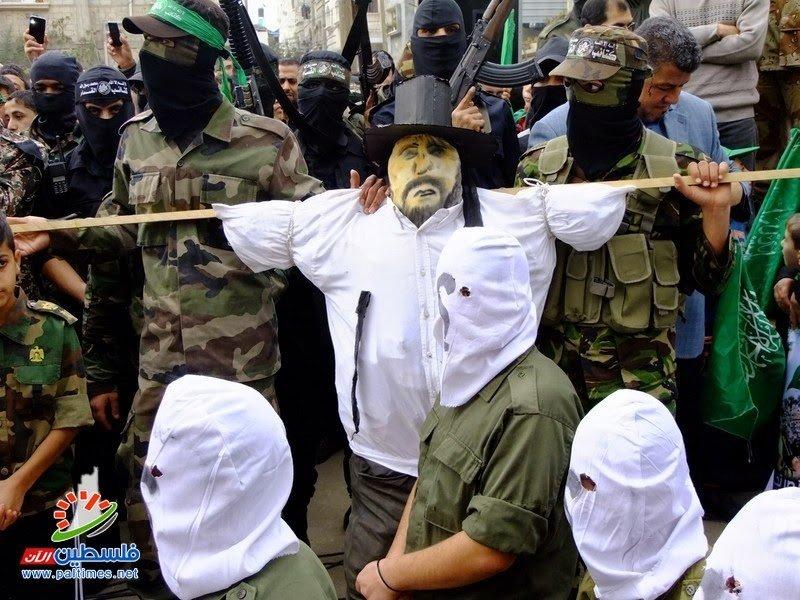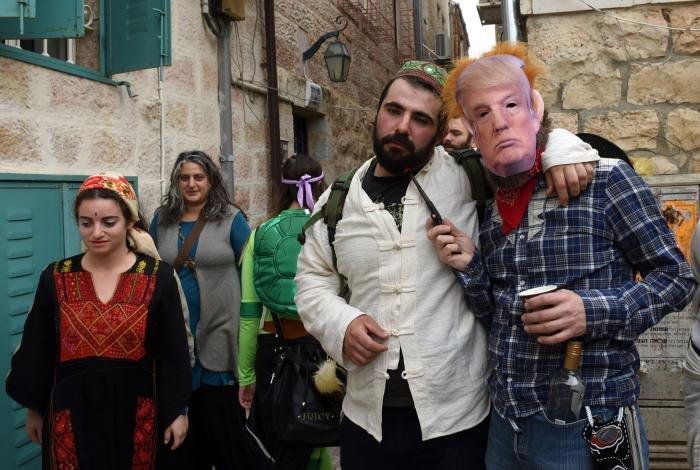 The inside joke on that one is that Trump is a crypto kike. All of our current leaders are. And they all feel the same way about non-jews LIKE YOU. PARTY ON HUH?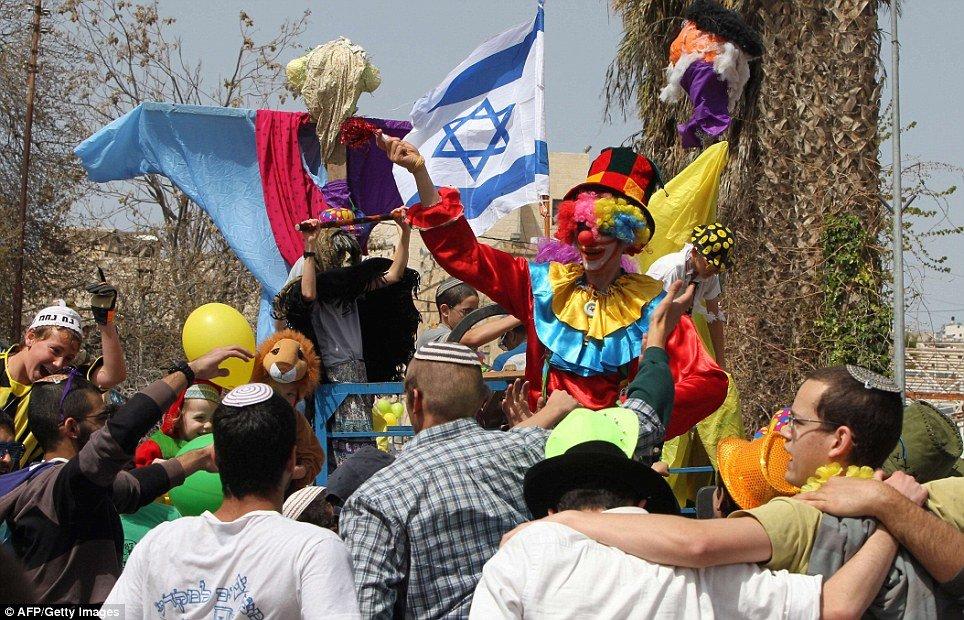 There are many other things going on here which include celebrating depopulation of We the People as "the walking dead";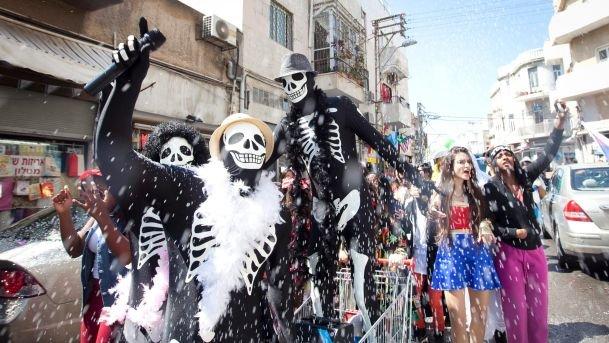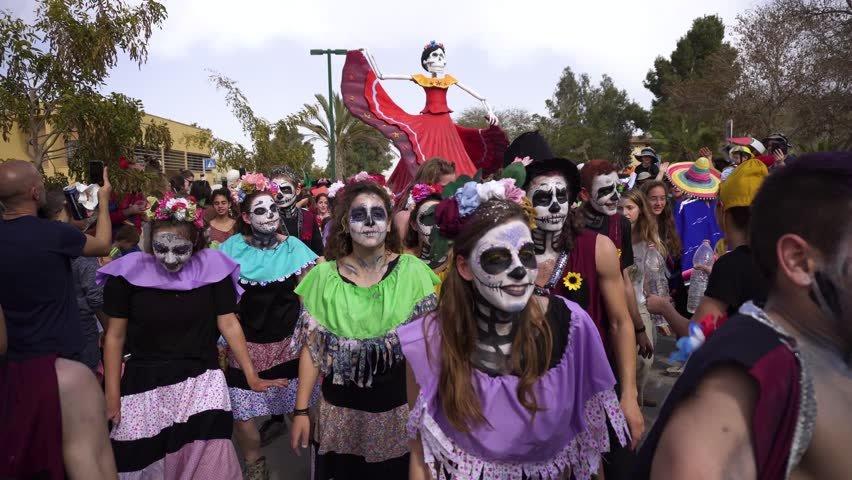 Do you think the idea of jews killing We the People with diseases, poisons, meds, vaccines and crappy food is silly? Maybe you should recall the following FACTS we covered in "When Do We Leave", that first video above;

• Autism is up 5600%
• Diabetes is up 700%
• Alzheimers' is up 800%
• Cancer is up 1000%
• Digestive ills . . . 3300%
The satanic kikes also frolic while promoting faggotry/lesbianism. (note, I don't give a rip what people do privately, earning their fates in hell is their choice, but I draw the line with promoting perversion! And when jews do it, it's even sicker.)
AGAIN TAKE NOTE, THE VAST MAJORITY OF JEWS LOOK LIKE NORMAL PEOPLE. We estimate there are easily 50 million or more jews in the US alone but only about 6 million openly admit it. IT'S BECAUSE THESE SICK, UNNATURAL FAGGOT AND LESBIAN PIECES OF SHITE ARE PSYCHOPATHIC LIARS.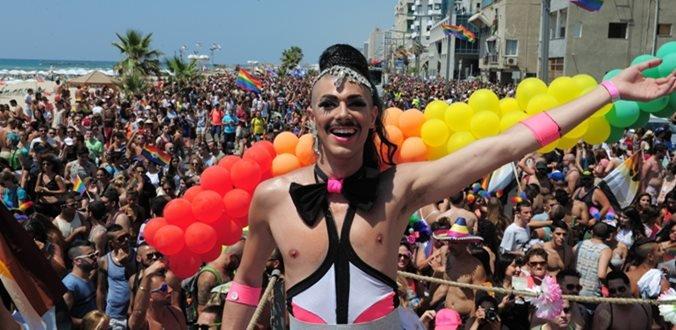 Is it really any wonder why God hate's this disgusting trash? Or why YOU should too? If not, you're an absolute fool! You simple do not love these psychopathic enemies of God, creation and YOU!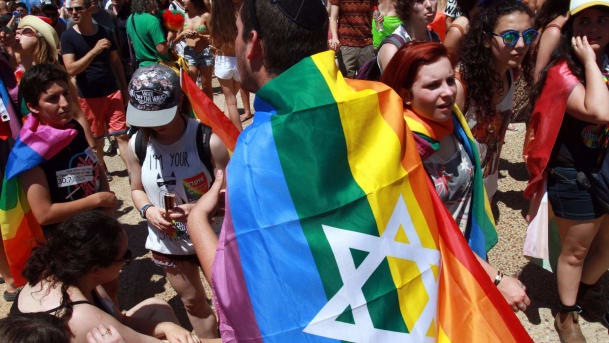 Did you know that jews own the porn industry and promote faggotry and lesbianism among we the people because it reduces morality and makes us produce fewer offspring? Here's 3 green fags with attitudes celebrating purim;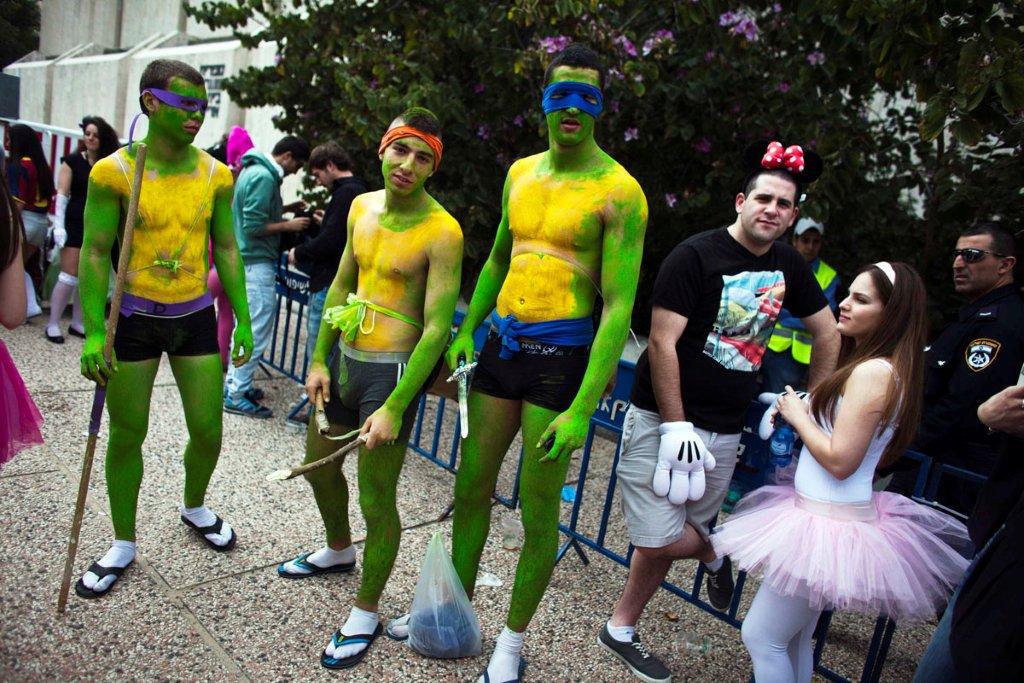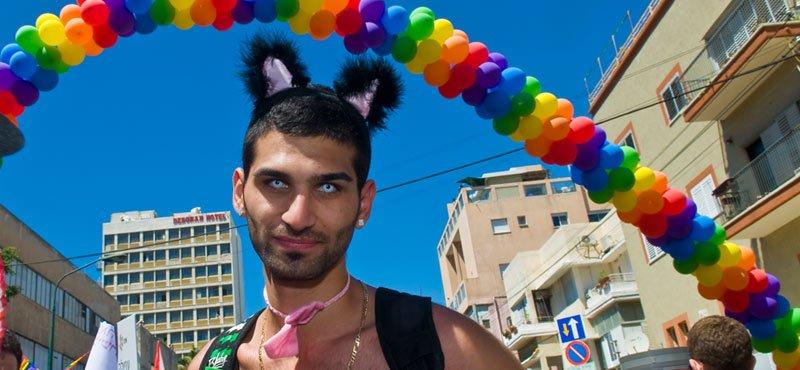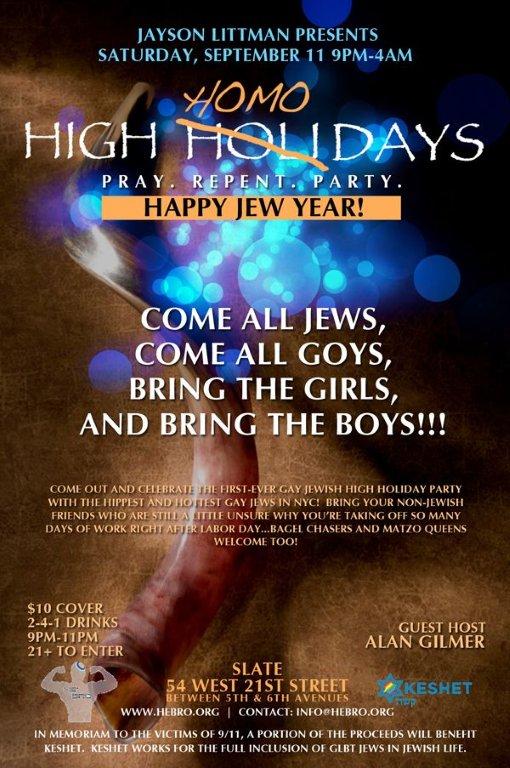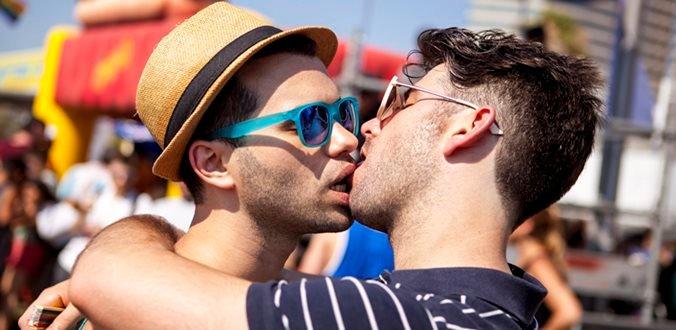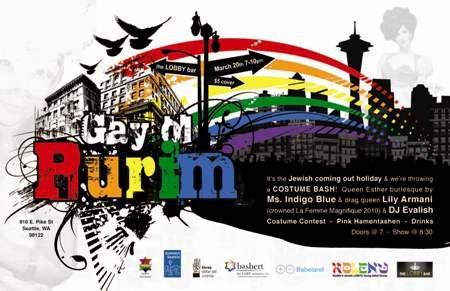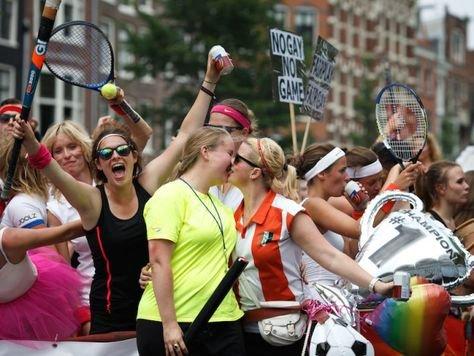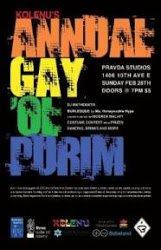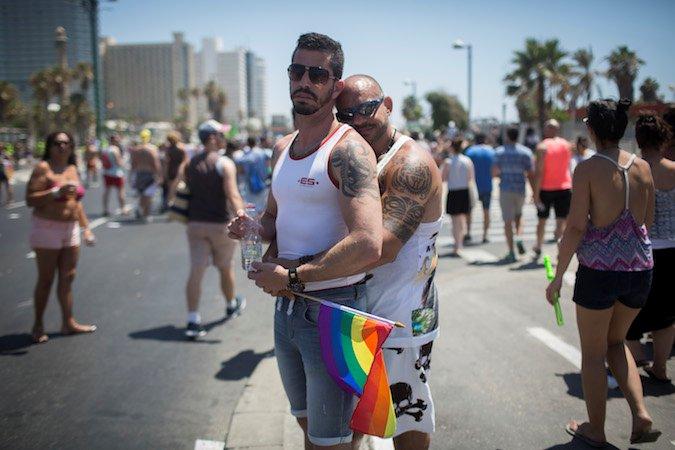 This is what jews think about God and religion!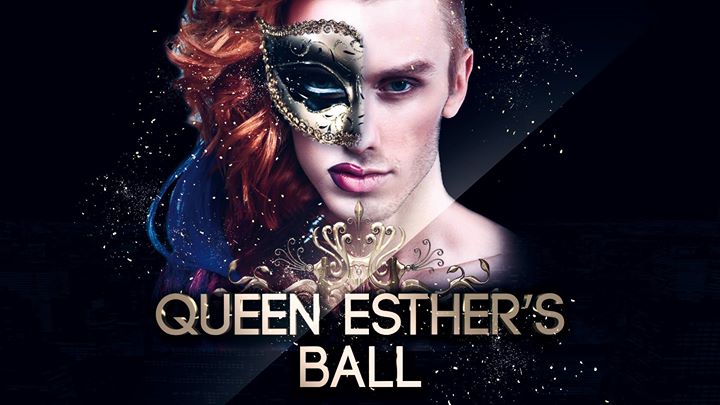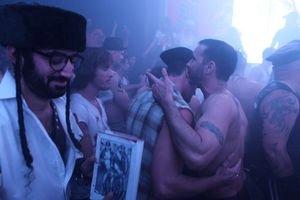 UTTER AND COMPLETE, GOD, AMERICA AND FREEDOM HATING PSYCHOPATHS!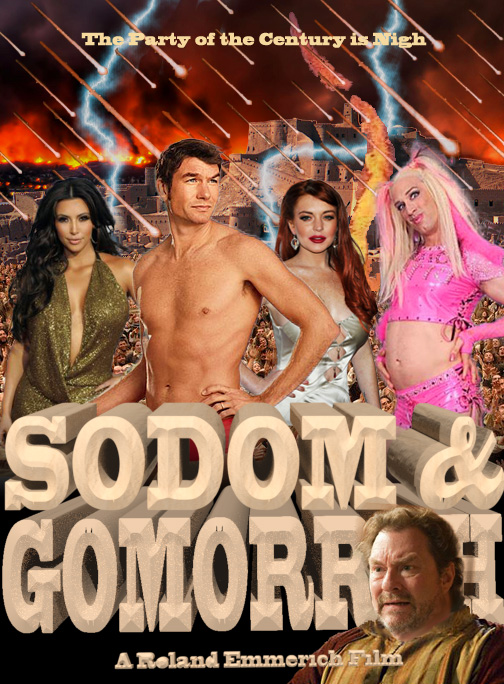 Do you remember what God did to the cities of Sodom and Gomorrah? That's right, He destroyed them and every single jew living in them.

And by the way, one of the disgusting treats they eat on purim are called "ears of Haman" which are supposed to symbolize the good mans' ears filled with his own chopped flesh. This is all 100% true and is what they think of YOU AND YOUR LOVED ONES.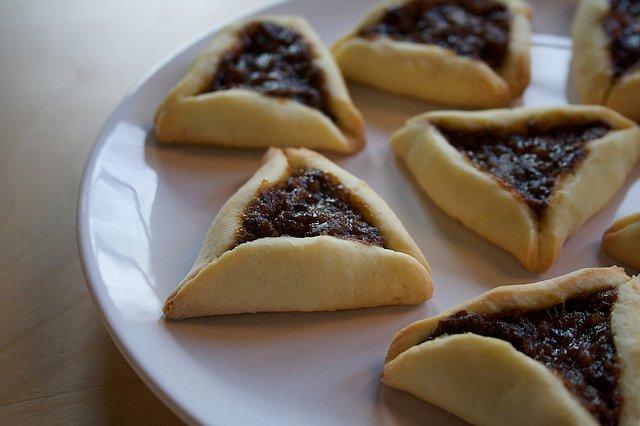 Remember the satanism on 9/11 video above? See below how the satanic jews responsible for the deaths of 3,000 Americans on 9/11 and MILLIONS of other totally innocent men, women and children in the middle east mock We the People with their kids;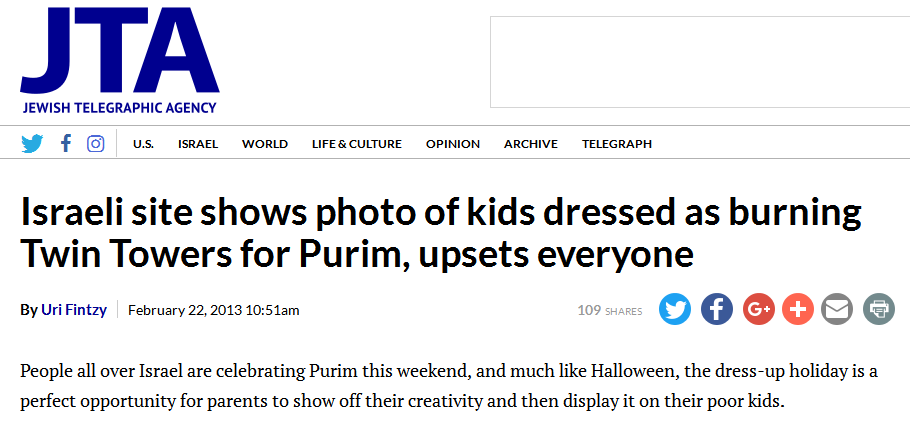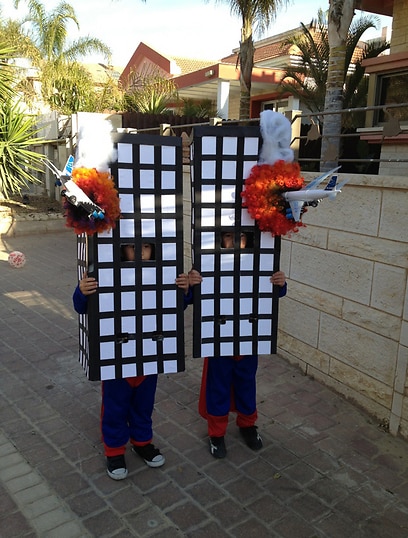 The satanic jews of the world think killing We the People is funny and celebrate it every year during purim. Below are some more examples of these sick pieces of sh*te;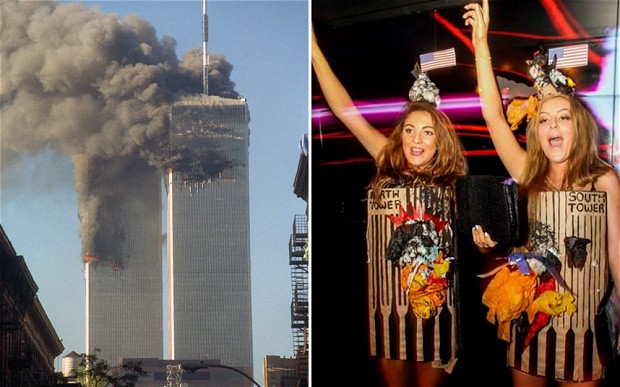 These lowlifes even remembered to add the terrified jumpers.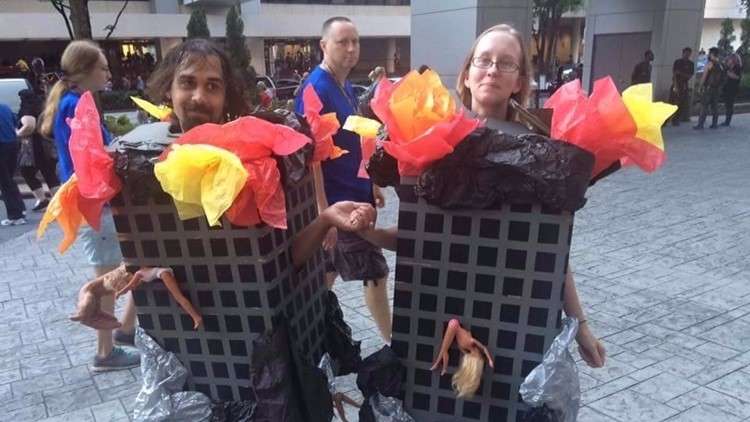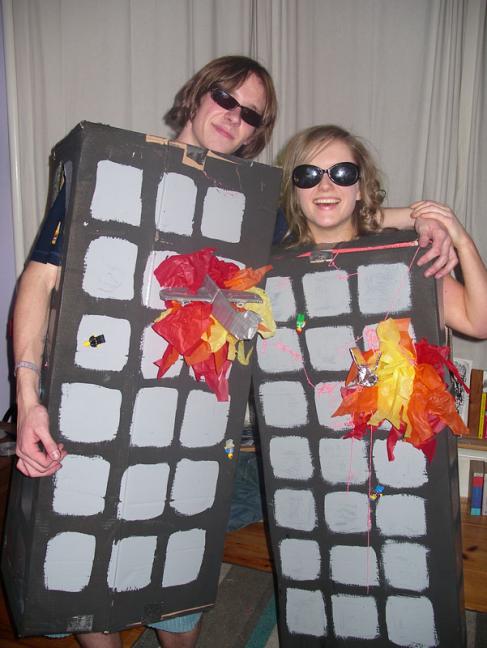 This is what evil looks like folks, these worthless liars and murderers need to be permanently removed from our societies, GODSPEED.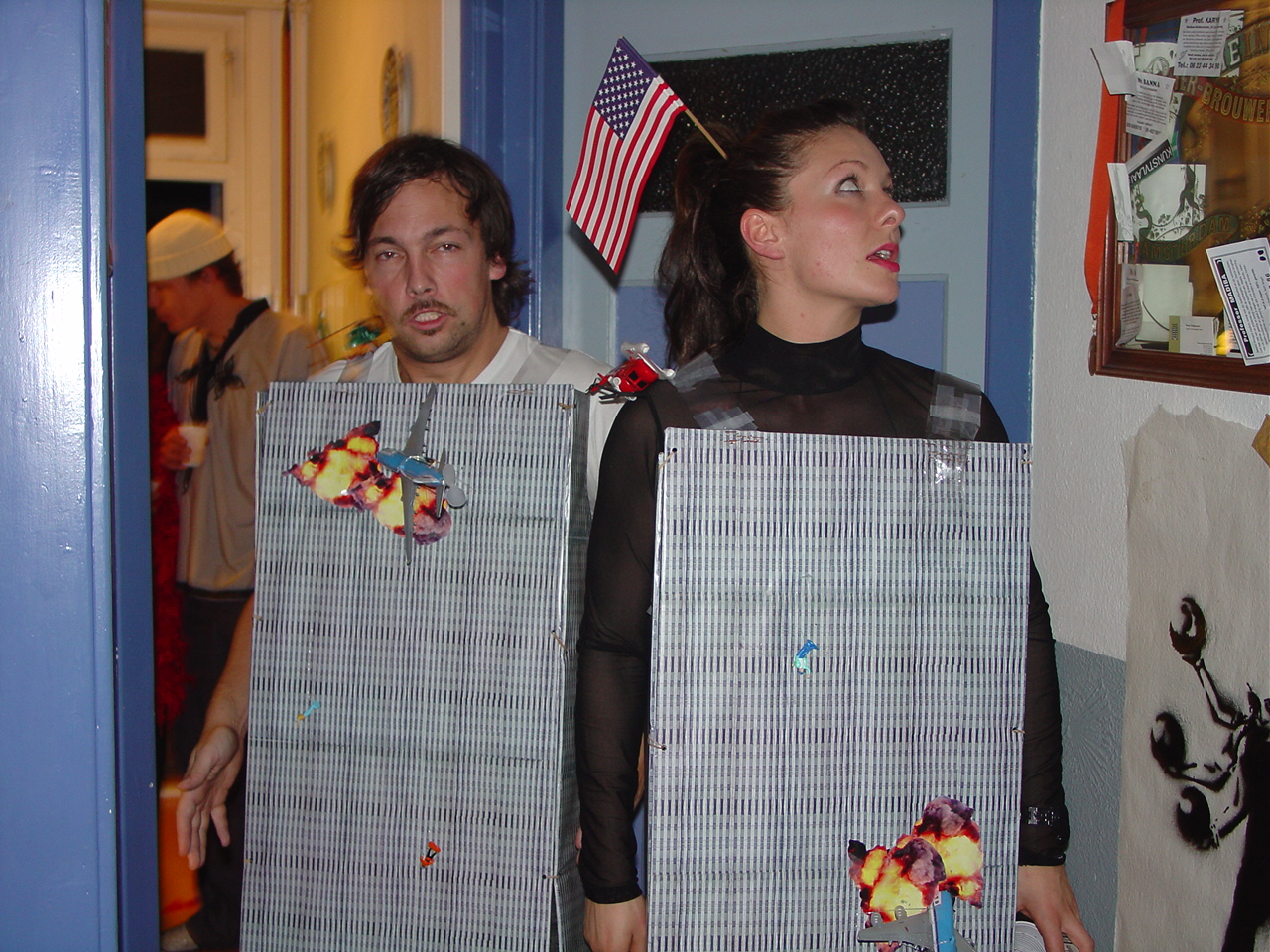 So now you know a little about the wonderful satanic, talmudic, jew-ish holiday of purim.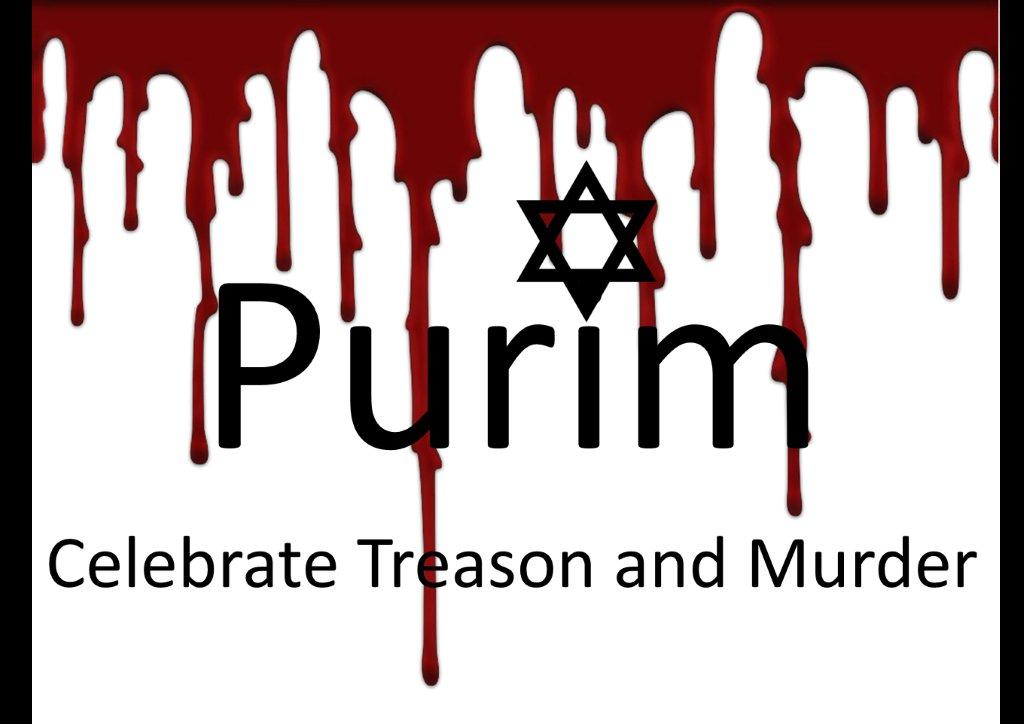 Do you still think the idea of jews mass murdering the rest of We the People is "out there" and not real? If so, watch the video at the top of the page as many times as needed to get it through your head. These disgusting things who still falsely call themselves jews (Judahites/Judeans) hate and want to kill or enslave everyone who's not one of them.
Next let's take a look at what these murderous, disgusting, lowlife pieces of trash buy their kids for passover; (recall the 10s of millions of innocent American indians they killed by giving them blankets and water infected with small pox)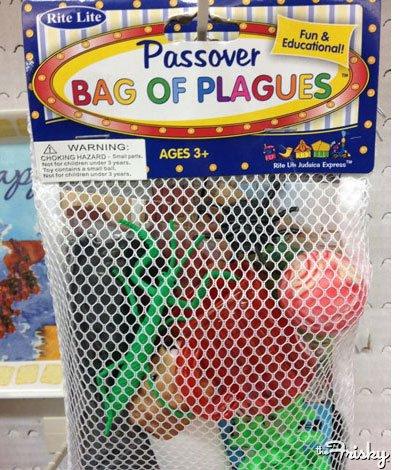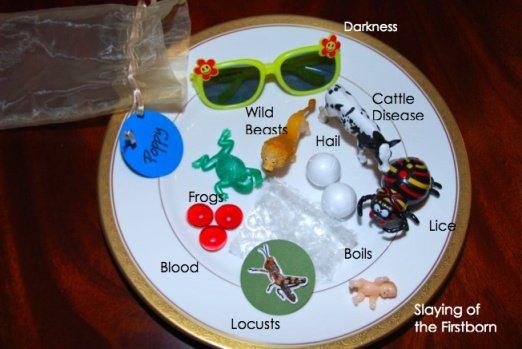 FYI; If you don't believe this you're a fool! You'll see more about depopulation at the https://www.AffirmativeActionAlliance.com for all the proof you'll ever need.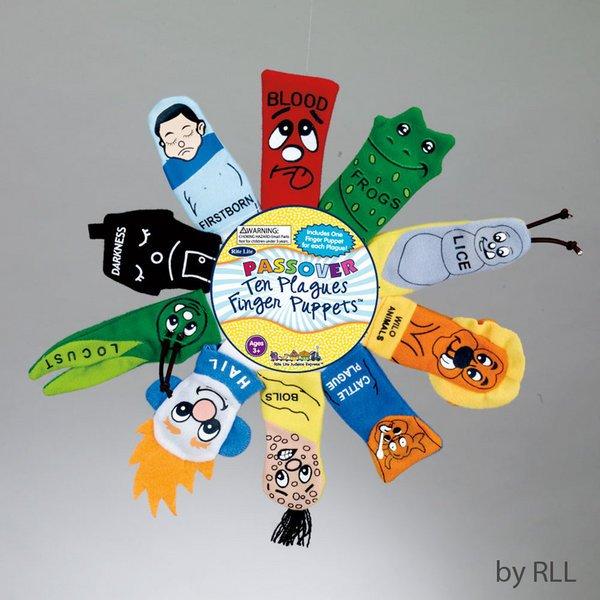 They buy these toys for their children on passover!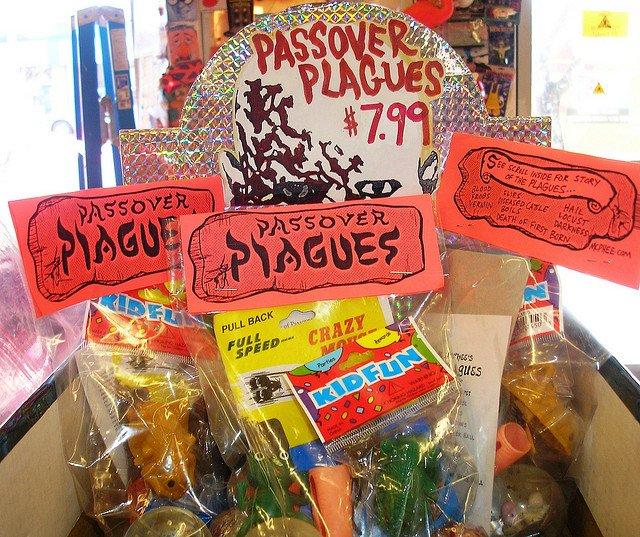 Hence, the reason I and anyone with a peanut for a brain simply has to dislike all of these worthless, lowlifes exactly like God, Yeshua and Mohamet tell us to! IT'S ALSO WHY EVERY SINGLE ONE OF THESE PATHETIC EXCUSES FOR HUMAN BEINGS ARE ALL GOING TO BE SENT TO HELL!
I'LL TAKE ANY AND ALL BETS ON THIS SPECULATION BECAUSE WHEN YOU'RE DEALING WITH DOZENS OF PROMISES FROM GOD IN THE VEDAS, BIBLE AND QURAN, IT IS 100% INESCAPABLE AND INEVITABLE!!!
ARREST, PROSECUTION AND HELL TO ALL EVIL, RACIST, BIGOTED LIARS, GODSPEED!
---
OK, HERE'S WHERE THE RUBBER MEETS THE ROAD. IT'S TIME FOR YOU TO LEARN, FULLY REALIZE AND ACCEPT THAT YHWH IS REAL AND END TIMES ARE NOW. THE PROOF IS IRREFUTABLE.

"THE MOST IMPORTANT ARTICLES EVER WRITTEN"

IF YOU DIDN'T WATCH THOSE SHORT 13 AND 5 MINUTE VIDEOS OR READ THE 3 ARTICLES LINKED ABOVE, DO IT NOW.
EVERYTHING ELSE HERE IS SECONDARY.

---
REJOICE, THIS IS GOOD NEWS!!!
---
The time nears when we will begin rebuilding our world! A good and beautiful world that YOU are going to LOVE being part of instead of being embarrassed of and sickened from!
Aside from voting to end corruption with the Affirmative Action Alliance and converting your currency with Unidigi while abandoning your "mark of the beast" (Govt supplied tax IDs, in the US its your social security #) there are now only 3 things for YOU to do with every second of your spare time until the corrupt leadership and financial systems in America begin to collapse and shake the world;
1. Tell others to watch the eye opening 13 and 5 minute videos here, this means everyone you know, friend or foe.
2. Tell others to read those 3 astounding issues of the Goyim Gazette this means everyone you know, friend or foe. (re-read each of them as many times as it takes to sink in that all of this is very, very real. Especially familiarize yourself with the first major set of miracles we've seen in over 1300 years as outlined in #119.)

3. Begin following the LAW of the 10 commandments, performing Abrahams' contact prayer and reading the Quran, Gods' final testament to mankind (all below) and warn others of the fact that those who don't will be the losers! And remember, ignorance of the LAW is no excuse! Those who don't follow it are breaking it and WILL BE PROSECUTED SOON.

EVERYTHING ELSE SHOULD BE MOVED WAY DOWN ON YOUR LIST OF PRIORITIES. No more foolish wastes of your time on TV, games or sports and most definitely no visiting of any SATANIC 501 (c) churches! (unless it's to arrest the clergy for deceiving you, your friends and loved ones and being TRAITORS to your fellow countrymen/women! Treason is a felony punishable by death and arrests made by We the People are 100% LEGAL.)
ABRAHAMS' CONTACT PRAYER
As interpreted by David Allender from the Quran

In the name of YHWH,
The merciful, the compassionate.
All praise to You, Lord of the worlds.
The merciful, the compassionate.
The only master of judgement day.
You alone we worship and to You alone we pray for help.
Guide us on the straight path, the path of those who have Your blessing.
Not the ones with whom You're angry, nor the ones who go astray.
(The prayer is traditionally for use 4 times per day. The first at dusk, the second in the night, the third at dawn and the fourth at midday.)
Psalms 18/19 "The heavens are telling the glory of YHWH; and the firmament proclaims his handiwork. Day to day pours forth speech, and night to night declares knowledge. There is no speech, nor are there words; their voice is not heard; yet their voice goes out through all the earth, and their words to the end of the world. In the heavens he has set a tent for the sun, which comes out like a bridegroom from his wedding canopy, and like a strong man runs its course with joy. Its rising is from the end of the heavens, and its circuit to the end of them; and nothing is hid from its heat. The law of YHWH is perfect, reviving the soul; the decrees of YHWH are sure, making wise the simple; the precepts of YHWH are right, rejoicing the heart; the commandment of YHWH is clear, enlightening the eyes; the fear of YHWH is pure, enduring forever; the ordinances of YHWH are true and righteous altogether. More to be desired are they than gold, even much fine gold; sweeter also than honey, and drippings of the honeycomb. Moreover by them is your servant warned; in keeping them there is great reward. But who can detect their errors? Clear me from hidden faults. Keep back your servant also from the insolent; do not let them have dominion over me. Then I shall be blameless, and innocent of great transgression. Let the words of my mouth and the meditation of my heart be acceptable to you, O YHWH, my rock and my redeemer."
---
THE 10 COMMANDMENTS
As interpreted by David Allender "But who can detect their errors? Clear me from hidden faults."

(YHWH gave us these beautifully simple and easy to follow laws for the benefit of mankind and all of creation. There will be none who exist in the world to come that don't follow these basic laws!)
1. Worship, honor and obey YHWH alone, treat no others as your God.
(Not doing this results in a lack of respect for Gods laws which lessens our morality and causes We the People to become weak and prone to being oppressed by evil leaders. It's not about YHWH being egotistical, it's for our own good.)
2. No idolatry – No object or image can represent YHWH. Such are only used for evil. (witchcraft, sorcery, magic, necromancy, divination etc.)
(YHWH has nothing to do with Christianities' cross, Islams' moon, Hinduisms' many statues or any other object/image. Worship the Creator and be in awe of His creations but DO NOT WORSHIP THEM!)
3. My name is YHWH, use it often and reverently for not doing so is taking Me in vain.
(5410 uses of YHWHs' name were removed from the Old Testament by jew-ish (not actual Judahites) pharisees/scribes who have always been mortal enemies to We the People. There is much power in using your Creators' name which is why they don't want us knowing or using it. No different than your friends and loved ones calling upon you by your ACTUAL NAME, this is the most elemental manner of showing respect to our only true Father, YHWH!)
4. Honor me – Be grateful and rest from dusk Friday to dusk Saturday.
(Honoring YHWH means doing good things that please him. Being grateful means thinking about YHWH and thanking him for all we have, eat and do. Resting means taking ones' mind off comparatively unimportant matters of the daily grind. Animals instinctively do this at every opportunity, they rest, play and enjoy the life they're given by God as all of us should!)
5. Honor your kin and brethren by being a blessing to all.
(Our earthly parents aren't the only ones we should strive to make proud of us. We owe the same to the whole of each other for the simple reason that good begets good. Giving ample reasons for being proud of our race should be the goal for every human being.)
6. Do not disrespect, harm or cause unwarranted death to any creature with a living soul. Esteem all of Gods creation.
(It is not possible to have high moral character or call oneself "intelligent" while not valuing the lives of innocent, feeling creatures, caring for people in distant lands or respecting the earth which amazes, comforts and sustains us. Our lack of morals results in We the People allowing murder of innocents in unnecessary wars and widespread destruction of creation which evil people rely upon to be rich and powerful. This is what "Thou shalt not kill" is really all about and one day I hope to prove that killing animals was "the original sin".)
7. Do not commit adultery with body, heart or mind.
(Adultery shows a dire lack of respect for oneself and everyone else, it plants seeds of distrust which is elemental in undoing the bonds we rely upon for coexisting in peace, love and harmony as a race.)
8. Do not steal, cheat or lie to harm your brethren.
(Ditto)
9. Do not bear false testimony or falsely accuse your brethren.
(Ditto again)
10. Do not envy others, wish all the best and always give thanks for what you have.
(Envy only shows and furthers ones' lack of ability to succeed, feel blessed and experience inner peace. This is why satanic oppressors of We the People popularize materialism, one of the 3 foundations of their modus. The other 2 are imposition and destruction. Resisting materialism, impositions and destruction in every form is our shared duty and has great rewards.)
Deuteronomy 6:6 And these words which I command you this day shall be upon your heart; and you shall teach them diligently to your children, and shall talk of them when you sit in your house, and when you walk by the way, and when you lie down, and when you rise. And you shall bind them as a sign upon your hand, and they shall be as frontlets between your eyes. And you shall write them on the doorposts of your house and on your gates.
---
STUDY YHWHS' FINAL TESTAMENT TO MANKIND;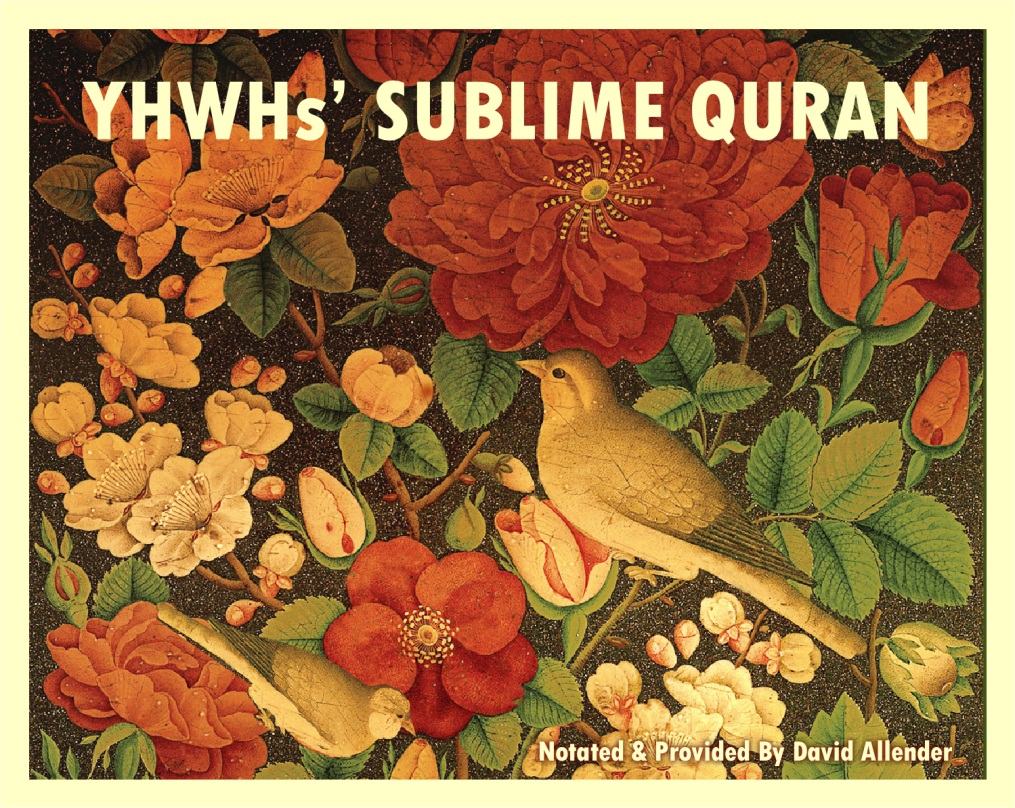 The Concordance for the Holy Quran.pdf
Copious, Irrefutable Scientific Proof The Quran Is 100% Divine!.pdf
Copious, Irreftuable Mathematical Proof the Quran is 100% Divine!.pdf
---
STUDY THE BIBLE BUT BEWARE OF FALSE PENS OF jEW-ISH PHARISEES AND SCRIBES;
---
~ Peace be with you ~
---
When (Not If) You Find Yourself Forgetting (due to being subjected to never ending lies and satanic propaganda from cradle to present) Who YOUR Mortal Enemies Are or Why and How YOU Are Going To Help Us Destroy Them, Take a Few Minutes to Recall Things As Often As You Need To By Watching That Video and/or Using Our "Reminder Page".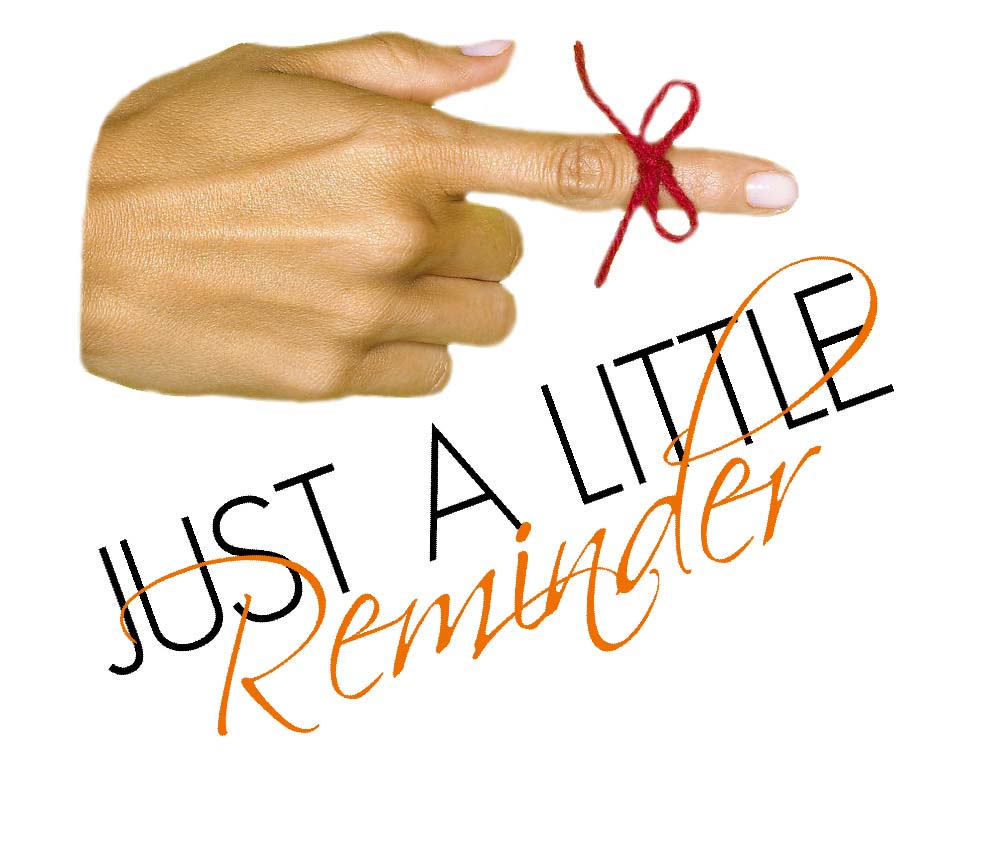 YOU TELL US, if you agree that is the one page on the internet EVERYONE should see!!!